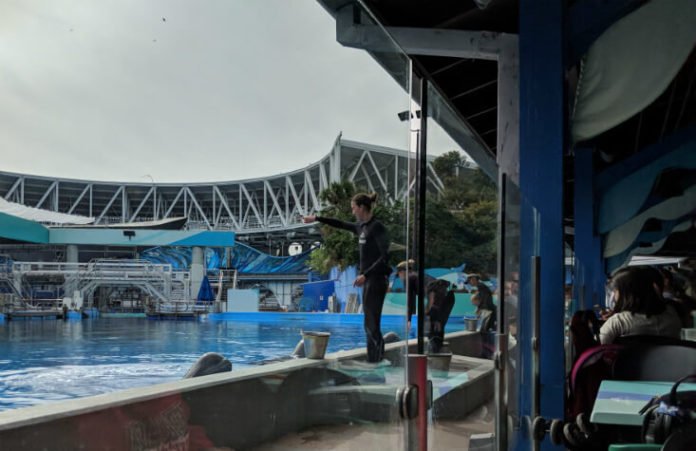 If you click on the links in this post, we may earn money from the companies mentioned in this post, at no extra cost to you. You can read the full disclaimer here.
A few months ago, I tried Dine with Shamu for the first time and I am so glad I did.  I chose a Dine with Shamu lunch reservation and I expected to have fun, but it far exceeded my expectations, and I found it was definitely worth the cost.  Here are some of the things that made it exceed my expectations
The food: I was really surprised by how great the food was.  Normally when you a buy a ticket to buffet like this where what you're really buying is the entertainment you don't expect the food to be good, but that was certainly not the case here. Not only was the food good, too, but there was an incredibly large selection.  So if you're planning on attending a Dine with Shamu in a group that has a variety of taste buds, don't worry; there's a definitely enough of a selection that everyone should find what they want
The service: The service went above & beyond my expectations. They were incredibly accommodating if you needed anything, and they came by my table more than once to see if everything was okay – not in a nosy way, but in a helpful way.  When you pay for something like this, you want to feel special, and that was definitely the case here
The animals: So I expected to see orcas and learn more about orcas, and it was great and I did, but an extra bonus I got when I went was seeing pilot whales up close and learning about this beautiful creature. All of the pilot whales at SeaWorld were rescued after being stranded (three in South Florida and one in the Florida Keys) and were deemed by the NOAA as un-releasable to the ocean.  It was great to see them getting a new home and getting healthier at SeaWorld.
The atmosphere: The entire lunch had a very positive atmosphere. The service undoubtedly contributed to this positive atmosphere.  It had a very family-friendly atmosphere, too.  Most of the people there were young families with young children, though as an adult visiting with other adults I didn't feel out of place; I say this just to mean that this is a very family-friendly event that food children can enjoy (now I did visit during the week on a cold January day that was not any kind of school holiday, so if I had gone during the weekend there may have been more older school-aged children).
Here are a few tips I can offer you about Dining with Shamu: