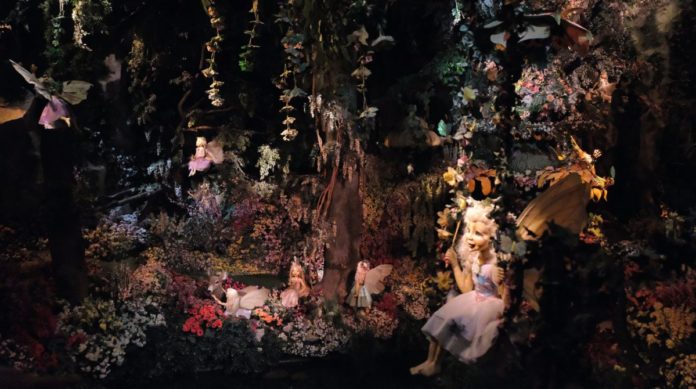 If you click on the links in this post, we may earn money from the companies mentioned in this post, at no extra cost to you. You can read the full disclaimer here.
Efteling Theme Park
Efteling is the largest theme park in the Netherlands and one of the oldest theme parks in the world (they opened in 1952).  It has a fantasy theme with rides & attractions reflecting fairy tales, myths, fables, etc.  Efteling is the third most popular theme park in all of Europe, only behind Disneyland Paris and Europa Park.  Efteling is located in the Dutch village of Kaatsheuvel.  It is open year-round.
Efteling Attractions
Efteling has a lot of great attractions that make a trip there great.
Symbolica: A great indoor trackless family dark ride where Pardoes the magical jester leads you into magical rooms to visit the King Pardulfus in his home, Hartenhof.
Joris en de Draak: A double-track wooden racer rollercoaster where two trains compete to get the finish, one of them based in water, one based in fire.  It's based on the legend of Saint George and a highlight of the ride is the 12-metre-high (39 ft) fire-breathing animatronic dragon.
Droomvlucht: On Droomvlucht (or Dreamflight), you get to fly through a world of fairytale-like creatures, like fairies, trolls, and elves.  This dark ride is great for the whole family!
Fata Morgana: A dark ride based on the 1001 Arabian Nights, with scenes coming to life with the ride's 140 animatronics.  This is definitely a ride your family will want to go on!
Baron 1898: A wonderful thrill ride that all roller coaster lovers are going to want to ride during their trip to Efteling! This dive coaster plunges you down a 37.5 m free fall into the mineshaft at a speed of 90 km/hour.
Vliegende Hollander: A great water coaster with a great story behind it, the legend of the Flying Dutchman.  As legend has it, the greedy Captain Willem van der Decken set out to sea on his ship, De Hollander, despite warnings of bad weather and the fact that it was Easter Sunday, which was forbidden.  Since that day, everyone on the ship is doomed to sail forever.  In the queuing are, you'll walk through Van der Decken's house.  On the ride, you'll see the holographic ghost ship, and then your boat will dive into the Underworld!
Piraña: A fun river rafting ride through the Inca Empire, where you'll see waterfalls, rocks and totem poles…and get very wet!
Vogel Rok: Vogel Rok is a high-speed, indoor roller coaster that is a must for thrill seekers!
Python: Some of the highlights of this popular steel roller coaster includes is its double loop and corkscrew
Pagode: Get amazing views of Efteling and the surrounding area on Pagode, a Thai temple-themed ride that rotates at a height of 45m.
Bob: The Bob is a 524 m long bobsleigh run where you can fly around at 60 km/hour.  Please note that this ride is closed when the temperature goes below freezing or it is snowing.
Carnival Festival: Carnaval dolls Jokie & Jet will take you around the world, where you'll get to see different cultures represented in this family friendly dark ride.  Fans of It's A Small World at Disneyland or Disney World will love this ride for sure!
Monsieur Cannibale: Spin around in a giant cooking pot in this fun, family-friendly ride.
Halve Maen: Take a ride on the world's largest swinging ship – if you dare!
De Oude Tufferbaan: Children and adults can enjoy driving a unique old-fashioned car in this attraction.  All the cars are themed differently (like one is a red fire truck, one is a blue police car, etc.) so each ride will be a unique experience from the other.  During your drive, you'll be able to see farm animals, ponds, hills, valleys, etc.
Kinderspoor: Enjoy riding through a typical Dutch landscape of windmills and barns in this pedal train ride.  Please note that this ride is not open in the winter and instead, the cross country ski track 't Hijgend Hert is open.
Stoomcarrousel: A great ride for the whole family where you can take a seat on this 100-year-old steam carousel traditional tunes from one of the worlds five remaining organs built by Gavioli.
Polka Marina: In this family-friendly ride, 23 ships will spin around a spouting whale.   You can float over the waves or go up and down.
Kindervreugd: A fun playground for children with carousels, a seesaw, slide and rocking boats.
Spookslot: This haunted house can be great spooky fun (but please note that it can be scary for small children).
Villa Volta: The story behind this attraction is the Buckriders, who pillaged and set fires across the Netherlands in the 18th century.  It is a Madhouse type attraction where you'll feel like the house is rotating!
Avonturen Doolhof: Avonturen Doolhof is a wonderful children's maze.  Clues from talking statues will help them find their way to the end of the maze.  But along the way, they can get sprayed by fountains!
PandaDroom: Enjoy the beauty of nature in this indoor 3D film experience.  You'll start in the ocean and end up among monkeys in the jungle.
Diorama: This is an indoor attraction the whole family can enjoy!  You'll see small villages surrounded by mountains and rivers as well as trains.
Volk von Laaf: Come see the unusual Efteling residents in Laafland, their village.  They are a mischievous group who settled in Efteling millions of years ago.
Monorail: See the park from a new perspective – up in the air!  Climb aboard a snail and travel over the cottages of Laafland.
Gondoletta: Take a seat onboard a a Gondoletta and relax during this 20-minute boat ride.  During your ride you'll get to see colorful flowerbeds and animals at the lake.
Stoomtrein: Looking for an easier way to transport from one realm to the other?  Then try the Stoomtrein at Efteling, where you'll get to enjoy looking at the beautiful park from the train.  There are stations in both Marerijk and Ruigrijk.
Anton Pieck Plein: Anton Pieck Plein is fashioned like an old Dutch town square where you can enjoy different restaurants and multiple carousels.
Game Gallery: Enjoy carnival-like fun at the Game Gallery.  You can win prizes at an old-fashion shooting gallery.  You can have your photo taken with a great Efteling backdrop at Plaetjesmakers.
Kleuterhof: A fun playground for the littlest guests!  There's a rain carrousel, bouncing chickens, etc.  And there are soft crash mats throughout the playground, which is great for toddler safety.
Efteling Museum: See 60 years of Efteling theme park fun in the Efteling Museum.  You'll see items from the parks as well as sketches by Efteling designers.
Fairytale Forest: Walk through a wooded forest where you'll see animated statues and buildings that depict classic fairy tales by Hans Christian Andersen, Charles Perrault, and the Brothers Grimm.  These fairy tales include:

Rapunzel
Sleeping Beauty
Rumpelstiltskin
Cinderella
Snow White
Little Red Riding Hood
Hansel and Gretel
The Little Mermaid
Pinocchio
The Emperor's New Clothes
The Six Swans
The Dragon
Tom Thumb
The Wolf and the Seven Kids
The Red Shoes
The Frog King
The Troll King
The Little Match Girl
Mother Hulda
The Magic Clock
Guinevere's Bridal Gown
The Indian Water Lilies
The Wishing-Table
Dwarf Village
The Gardener and the Fakir
The Six Servants
The Chinese Nightingale
The Talking Parrot
The Fairy Tale Tree
Efteling Hotel
The Efteling Hotel is the theme park's official hotel.  It is a 4-star hotel that's a 5-minute walk to Efteling.  You can book it here at a great price with theme park tickets included.  You can book other hotels near Efteling here.
Efteling Discount Tickets
If you are not saying on-site at the Efteling hotel and need discount tickets, we've got you covered!  We've found that you can get the lowest price for tickets here.