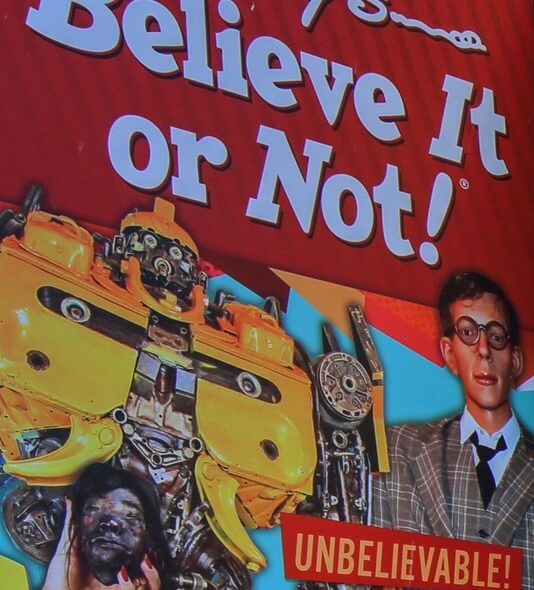 If you click on the links in this post, we may earn money from the companies mentioned in this post, at no extra cost to you. You can read the full disclaimer here.
Ripley's has a lot of popular tourist attractions in Baltimore, Maryland: Ripley's Believe It Or Not!, Ripley's Moving Theater 4D, Ripley's Marvelous Mirror Maze and Ripley's Smash Dash.
If you're planning a trip to Baltimore and you'd like to visit any of these attractions, then I'm sure you're looking for a coupon to help you save money on admission.
Well, if buy your ticket between now and March 31, 2019, you can save 20% on a 3 Attraction Combo Ticket by using the promo code "SPRING19".
And there are also a lot of other ways to save on Ripley's Website:
3 Way Combo: For just $29.99 for adults & $21.99 for children, get admission to:

Ripley's Believe It Or Not!
Ripley's Moving Theater 4D
Ripley's Marvelous Mirror Maze

2 Way Odditorium/Maze Combo: For just $25.99 for adults & $17.99 for children, get admission to:

Ripley's Believe It Or Not!
Ripley's Marvelous Mirror Maze

2 Way Odditorium/Theater Combo: For just $25.99 for adults & $17.99 for children, get admission to:

Ripley's Believe It Or Not!
Ripley's Moving Theater 4D

2 Way Mirror/Theater Combo: For just $25.99 for adults & $17.99 for children, get admission to:

Ripley's Moving Theater 4D
Ripley's Marvelous Mirror Maze

Twilight Special: Save $7 when you visit after 4:00 PM on the 3 attraction combo package