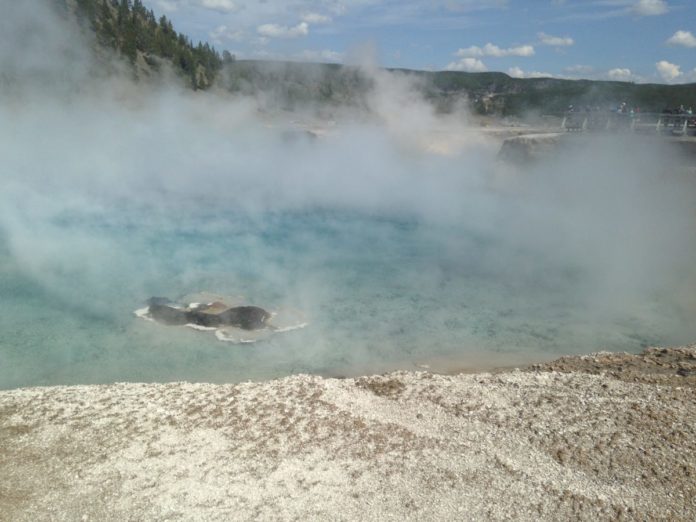 If you click on the links in this post, we may earn money from the companies mentioned in this post, at no extra cost to you. You can read the full disclaimer here.
Salt Lake City, Utah is a good city to start in if you want to visit Yellowstone National Park.  When I visited Yellowstone, I started from Salt Lake City, and it's not too long of a drive.  Plus there are a lot of other great places to visit in that area, too.  The closest airport to Yellowstone is 60 miles away, and you can fly right into Salt Lake City, too, if you don't live close to Salt Lake City.  From there, you can take a tour so you wouldn't even have to rent a car.  Some of them even end in other cities, and you can take the flight back from there!
If you are looking to take a tour from Salt Lake City to Yellowstone, then check out the great tours they have available at Tours4Fun, where you'll be able to visit Yellowstone – plus other great locations!
11-Day Salt Lake City, Yellowstone National Park, Mt. Rushmore, Lake Tahoe, Crater Lake National Park, San Francisco Tour
11-Day Classic West Coast Tour: Yellowstone, Rushmore, Vegas, Grand Canyon & Yosemite
10-Day Classic Tour to Yellowstone, Mt Rushmore, Reno, Napa, San Francisco, Yosemite and California Theme Parks
10-Day West Coast Tour From SLC to LA
9 Days Yellowstone, Grand Canyon/Antelope Canyon, San Francisco, Yosemite Tour(Starts in SLC/Ends in LA)

9-Day Classic Tour to Yellowstone, Mt Rushmore, Reno, Napa, San Francisco and Yosemite

9-Day West Coast Tour From SLC to LA
8-Day Yellowstone, Napa, San Francisco, Yosemite and California Theme Park Premium Tour
8-Day Salt Lake City, Yellowstone National Park, Mt. Rushmore, San Francisco Tour
8-Day Yellowstone, Salt Lake City, Mount Rushmore, Devil's Tower, Grand Teton, Lake Tahoe Tour Package
8-Day Classic Tour to Yellowstone, Mt Rushmore, Las Vegas and Grand Canyon
8-Day Las Vegas, Salt Lake City, Grand Teton, Grand Canyon and In-Depth Yellowstone Tour Package
7-Day West Coast National Park Tour: Yellowstone, Lake Powell, Grand Teton, Grand Canyon West, Las Vegas and Salt Lake City
7-Day Yellowstone Winter Tour From Salt Lake City: Grand Teton, Jackson Hole, & Grand Canyon
7-Day Yellowstone Tour: Grand Teton, Salt Lake City, Mount Rushmore, Devil's Tower, Lake Tahoe Tour
7-Day Yellowstone, Reno, Napa Valley, San Francisco, Yosemite Premium Tour
7-Day Yellowstone, Mt Rushmore, Reno, Napa Valley Tour Package
7-Day Yellowstone, Las Vegas, Grand Canyon West, & California Theme Park Premium Tour
6-Day Yellowstone, Grand Teton, Grand Canyon/Antelope Canyon and Las Vegas Tour (Starts in SLC/Ends in LV/LA)
6-Day Yellowstone National Park & South Grand Canyon or West Grand Canyon (Skywalk) Bus Tour: SLC to LA/Vegas
6-Day Bus Tour to Yellowstone National Park and Mt. Rushmore from Salt Lake City
5-Day Grand West Coast National Park Tour: Yellowstone, Mt Rushmore, & Grand Teton
5-Day Yellowstone, Mt Rushmore, Grand Teton National Park Tour Package
5-Day Yellowstone Winter Tour From Salt Lake City: Jackson, Grand Teton, and Snow King Mountain
5-Day Yellowstone, Grand Teton and Salt Lake City Tour
5-Day Yellowstone National Park & Mt. Rushmore Tour from Salt Lake City
5-Day Yellowstone & Grand Teton Tour W/ Hot Springs From Salt Lake City
4-Day Grand Teton & Yellowstone Tour From Salt Lake City
4-Day Yellowstone Tour From Salt Lake City W/ Idaho Falls & Great Salt Lake
4-Day Yellowstone Winter & Wildlife Tour From Salt Lake City
4-Day Yellowstone & Grand Teton Small Group Tour From Salt Lake City
3-Day Yellowstone Winter Tour From Salt Lake City
3-Day Yellowstone & Grand Teton Small Group Tour From Salt Lake City
2-Day Yellowstone Tour From Salt Lake City
Yellowstone Tour From Salt Lake City