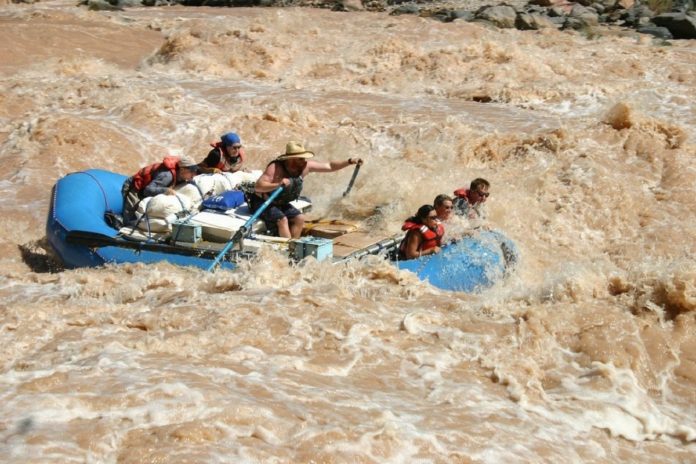 If you click on the links in this post, we may earn money from the companies mentioned in this post, at no extra cost to you. You can read the full disclaimer here.
Grand Canyon Whitewater Rafting
If you want the ultimate adventure travel experience, then you have got to try white water rafting on the Colorado River at the Grand Canyon!
This will allow you to experience the Grand Canyon in a whole new way – between the canyon walls in the Colorado River – under the guidance of your experienced guides of Hualapai River Runners.
You have a choice of a 1-Day Whitewater Rafting Adventure or a 2-Day Whitewater Rafting Adventure.
Coupon
You can currently save 10% off these tours by clicking through this link and using the promo code "MILLION".
Adventures
Here are the two adventures you can choose from:
1-Day Adventure
Take a scenic bus ride to the Colorado River
Enjoy a thrilling adventure of over 12 miles of river that is fun and appropriate for all experience levels, including beginners
Hike to Travertine Cavern Falls & see the beautiful natural waterfall
Eat lunch along the riverbank and admire the natural beauty
Take a smooth water ride through the Canyon
Take a helicopter flight from the river to the rim of Grand Canyon West
Can add an optional tour of the Skywalk & Eagle Point
For children ages 8 years old & older
2-Day Adventure
You'll start the 2-day adventure on a Friday night at the Hualapai Lodge along historic Route 66 in Peach Springs
On Saturday, you'll enjoy miles of whitewater rafting
You'll also hike to Travertine Cavern Falls where you can take pictures
You'll paddle raft down the river to Spencer Canyon, where you will enjoy a steak dinner and then camp there for the night
The next day you'll board power pontoon boats where you will float along for nearly 30 miles of amazing, unforgettable scenery
You'll enjoy narration from your experienced guide, who will tell you true stories about "the People of the tall Pines", and you'll learn a lot about their history & culture
You'll take a helicopter ride to the rim & Grand Canyon West where you'll be able to add on a Skywalk & Eagle Point tour
Finally, you'll be transported back to the Hualapai Lodge
This adventure is for children ages 12 years old & older
Tips
A few tips to remember no matter which adventure you choose:
Bring sunblock – this is Arizona!
Dress in quick-drying clothing, because you are going to get wet
You could bring a change of clothes, and a dry bag is provided if you choose to do that
You will also be provided with a watertight ammo box for your cell phone and any other small item you do not want to get wet
Don't wait to take advantage of this promo code – it expires on December 31, 2019!