If you click on the links in this post, we may earn money from the companies mentioned in this post, at no extra cost to you. You can read the full disclaimer here.
The Walt Disney World Resort in Orlando, Florida has a lot of great hotels.  But one of my family's absolute favorite hotels would have to be the Beach Club.  We love the atmosphere, the theming, the color scheme, the location, just pretty much everything about it!
You can see for yourself how great it is in this virtual tour:
So today I thought I'd share with you some things my family has learned from staying here that will make your trip even better.
1. Book Your Stay With David's Vacation Rentals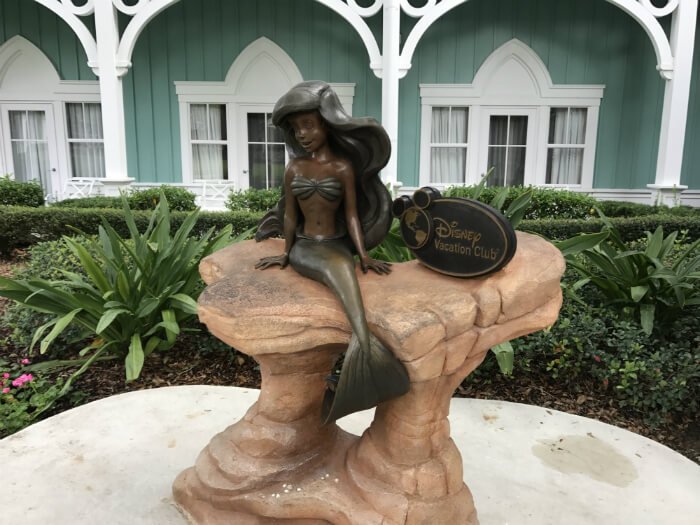 You can book a standard room at the Beach Club through Disney.  Or you could book a Disney Vacation Club villa through David's Vacation Rentals!
So you might have thought that only Disney Vacation Club members can rent Disney Vacation Club villas.  But that simply is not true.  My family is not part of the Disney Vacation Club.  But we have rented plenty of DVC villa.  In fact, this year alone, we've booked villas at Grand Floridian and Wilderness Lodge and in a few weeks we are going to stay at a villa at Boardwalk!
So how do you do this?  Well, you can rent points from DVC members and then book a stay for much less than you would pay through Disney.  All of this is made possible through David's Vacation Club rentals.  This might seem confusing, but it's actually not.  We go over it in detail here.  You can also go right to David's Vacation Club Rental's website to get started.
2. Cook Meals Out of Your Villa
So in addition to saving money by staying in a DVC villa, you also get access to a kitchen in your room.  This is incredibly helpful, and not just because you can keep leftovers or drinks in your refrigerators.  But you can also make meals out of your room!  This can be great if you want to save money on your trip by eating in the room.
If you've ever been to Disney World or a theme park before, then I don't have to tell you how they jack the prices up.  And Disney World certainly has a lot of great restaurants that make it worth it.
But if you want to save some money during your trip, consider eating at least a few meals out of your room.  You'll have the tools needed to do it.  And you won't have to commit to spending hours in your room cooking, either.  You could keep it as simple as bringing ready to go meals on your trip like these and then that would at least save you some money on your trip!
3. Eat at One of the Hotel's Restaurants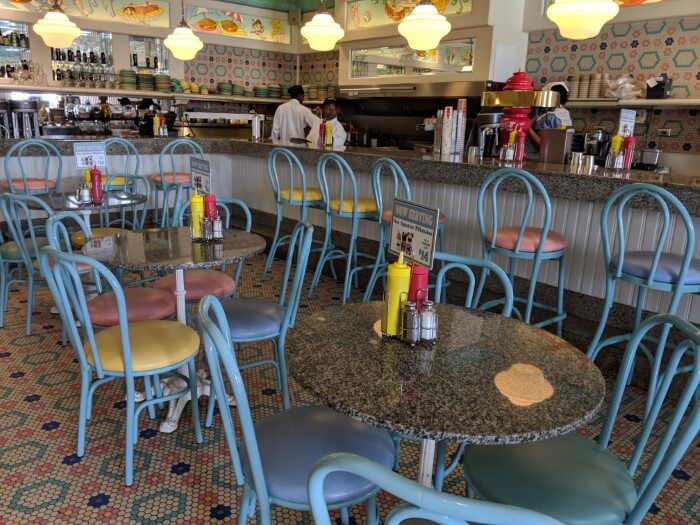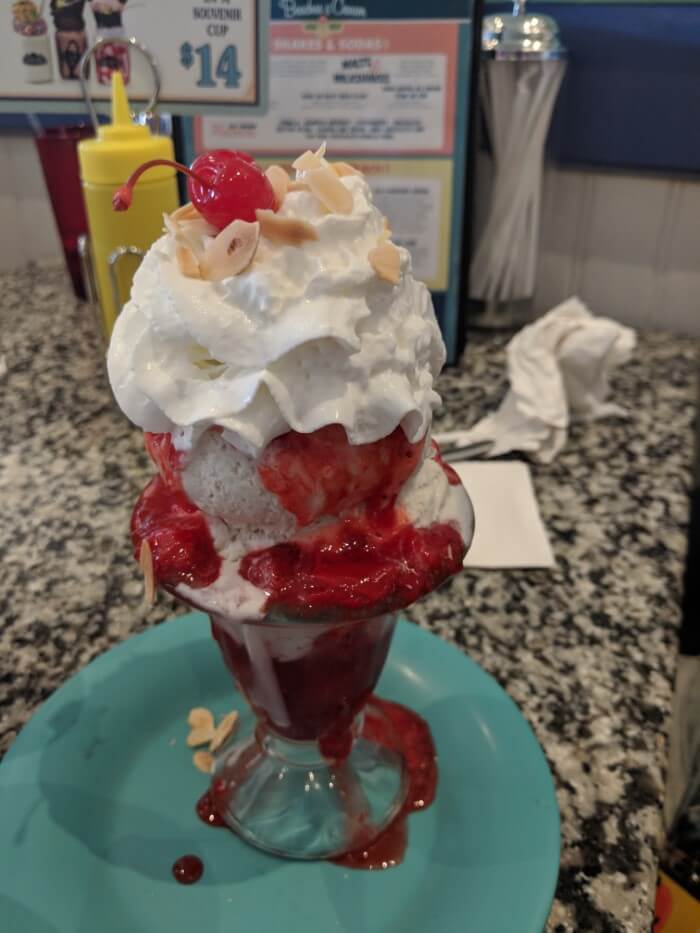 So I know I said you can save money by eating out of your room.  And that is true.  But you'll also love eating at one of the restaurants at the hotel.  Because one of the many reasons my family loves staying at the Beach Club is that they have some great restaurants!
Cape May Cafe has one of the best character buffet breakfasts at Disney.  They may not have characters right now, but the food is still delicious and we loved our reason visit.  See our review here.
My family also loves the on-site fun, themed restaurant Beaches and Cream Soda Shop; see our review here.  They have great burgers and some of the best desserts in Disney World!
I even love ordering salads and eating by the pool when I order from Hurricane Hanna's Waterside Bar and Grill.
A great thing about Beach Club is that it is connected to Yacht Club, too, so you can quickly get to their restaurants.  Our favorite restaurant at the Yacht Club is Ale & Compass, see our review of that restaurant here.
So while you can save money by cooking your meals out of your villa, I think you should splurge at least once while you are there and eat at one of the hotel's on-site restaurants.  Not only is it convenient, but the food is delicious, too!
4. Visit Disney's Boardwalk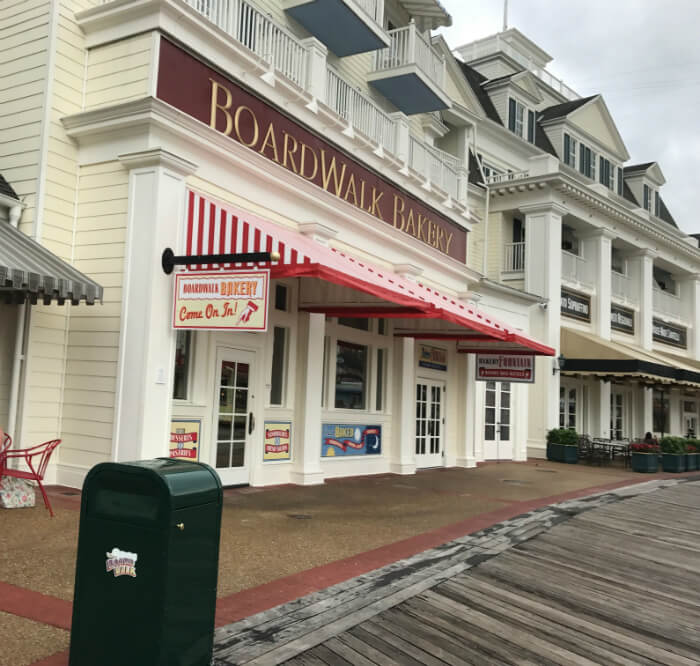 Another great place for restaurants is Disney's Boardwalk.  Disney's Boardwalk is also a lot of fun.  It's an entertainment district with restaurants, shops, and entertainers.  It is reminiscent of the turn-of-the-century boardwalks you'd see in places like Coney Island and Atlantic City.
Disney's Boardwalk is directly across from the Beach Club, on the other side of Crescent Lake.  You can take a walk or run from your hotel and go to the Boardwalk and then continue making the circle back to your hotel, which is a lot of fun.  Or you can take a boat to the Boardwalk.  Either way, take time to visit the Boardwalk because it's a lot of fun!
There's a lot of good dining here, too.  And good ice cream.  We reviewed the new Boardwalk Ice Cream Shop here.
5. Walk to Epcot or Hollywood Studios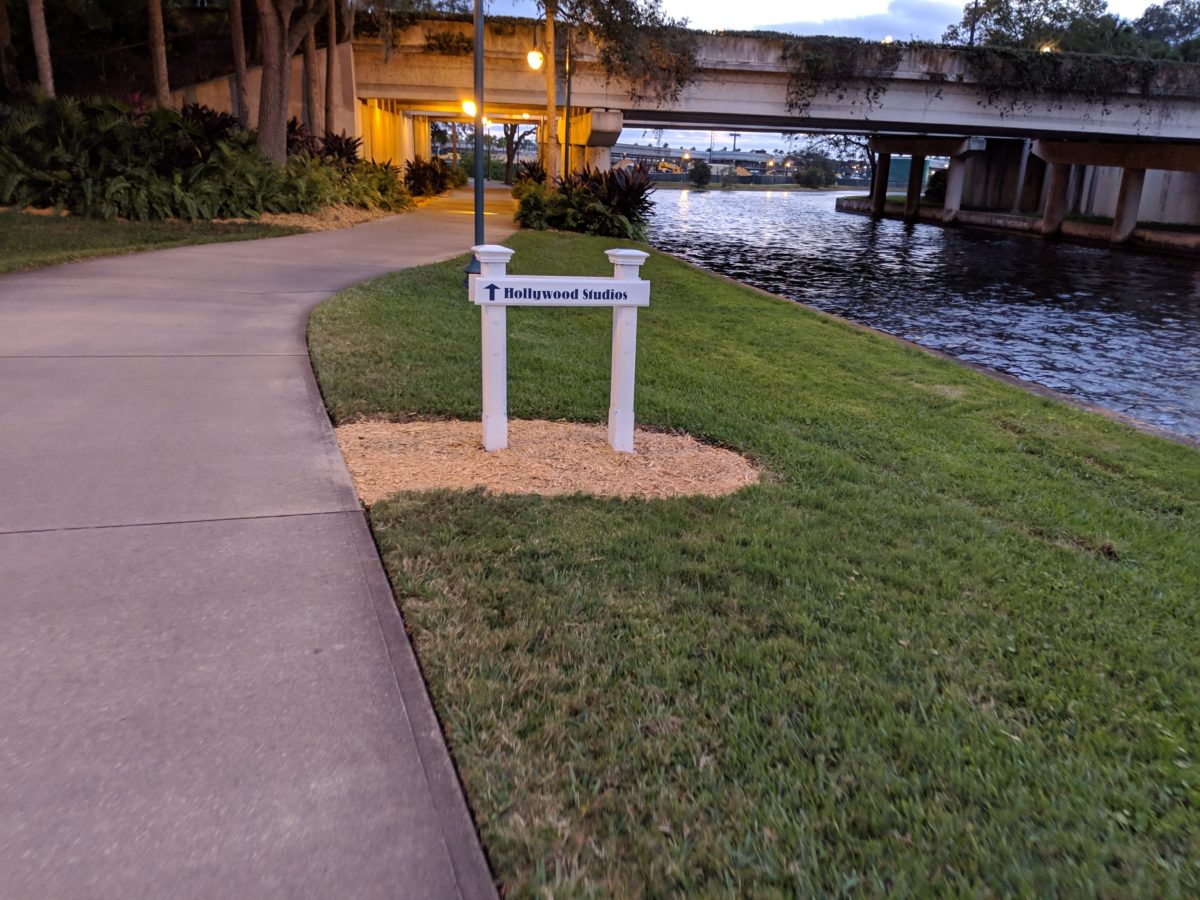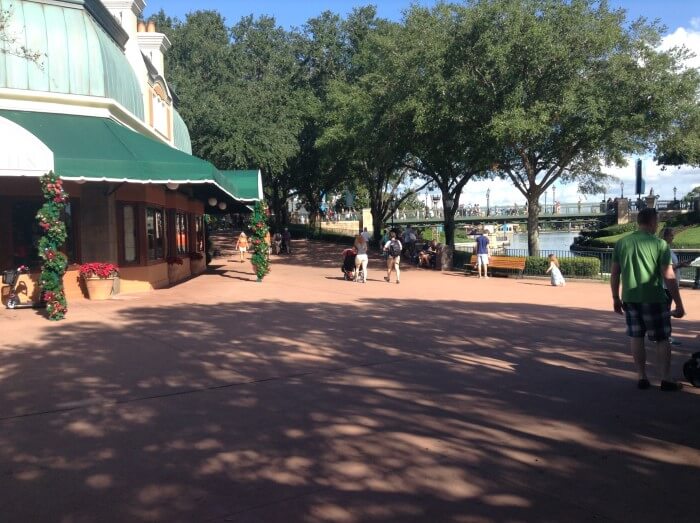 Did you know that you can walk to both Epcot or Hollywood Studios from the Beach Club?  The absolute closest walk is to Epcot.  In fact, it is the hotel with the closest walk to the World Showcase entrance of Epcot.  My family really loves this because the World Showcase is a favorite of ours.  It has some of the best restaurants at the Walt Disney World, like Tutto Italia.
You can also walk to Hollywood Studios, but it is a much farther walk.  Luckily, if you don't want to take that walk, there are other great forms of transportation to Hollywood Studios, which we are about to get to.
6. Take a Boat to Epcot or Hollywood Studios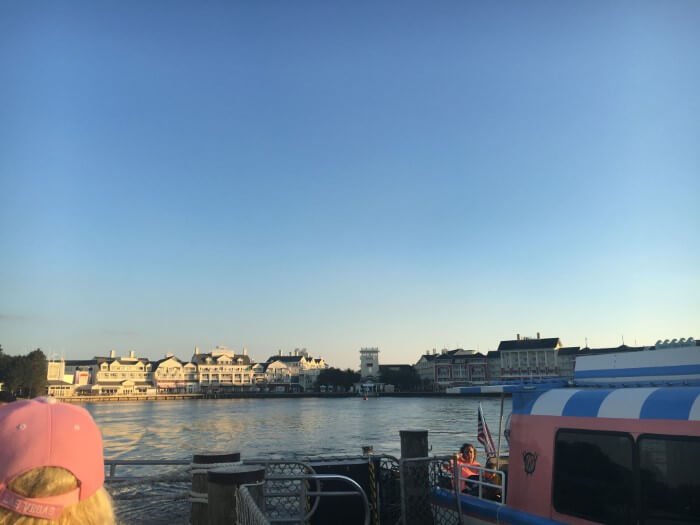 And that other great form of transportation is the boat! It's a lot quicker to walk to Epcot rather than take the Friendship Boats.  But if your feet are hurting after a week of Disney World, you still can take that boat to Epcot!
And taking the boat to Hollywood Studios just makes a lot of sense because it is a long walk.  But there is another form of transportation to Hollywood Studios altogether, which I am about to tell you about.
7. Take a Gondola to Hollywood Studios, Riviera or Caribbean
The Beach Club is just a short walk to Disney's new Skyliner transportation.  You can use that to go to Hollywood Studios if you don't want to walk or take the boat.
You can also use it to go to other Disney hotels.  This includes the Caribbean Resort, Riviera Resort, Pop Century, and Art of Animation.  The Caribbean Resort and Riviera Resort in particular have wonderful dining experiences you might want to check out.  This is SebSebastian's Bistro at the Caribbean and Topolino's Terrace – Flavors of the Riviera at the Riviera.  My family also really loves the quick-service restaurant at the Riviera, Primo Piatto; we review it here.  So if you're looking for some different dining experience during your Disney World vacation, you can use Disney's new Skyliner transportation to check it out!
8. Watch Fireworks from the Beach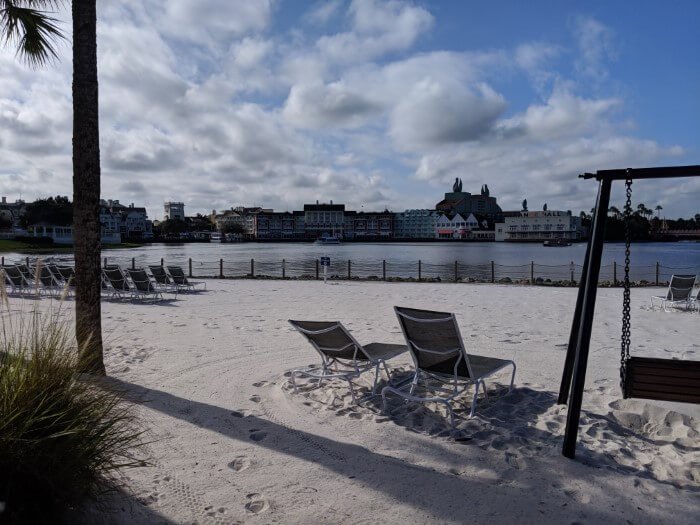 The Beach Club fittingly has a beach area where you can lounge on a chair in the sand.  And at night, it is the perfect place to watch the Epcot fireworks from!  Wouldn't you rather watch the fireworks from the comfort of the beach than in a crowd?  Plus, once the fireworks are over, you can quickly go back to your room.  No having to deal with the crowds of everyone leaving Epcot at the same time!
9. Take a Swim in the Pool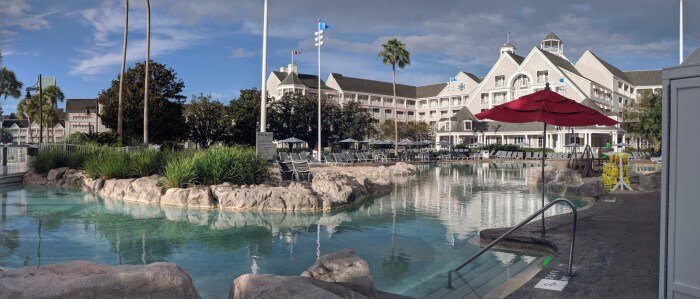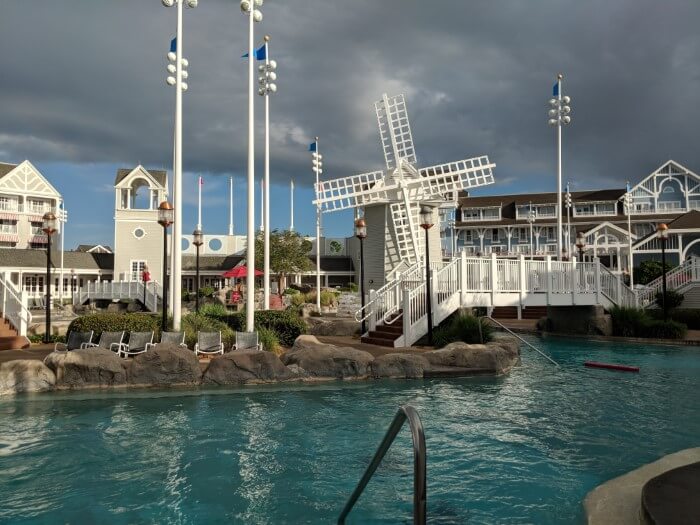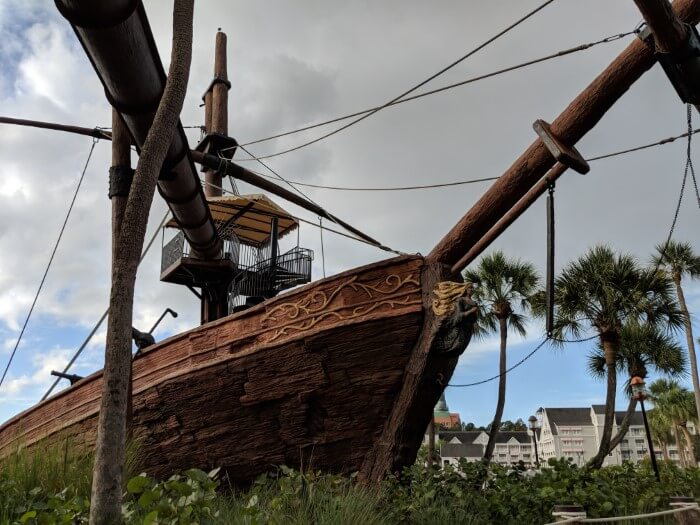 The pool at the Beach Club has to be the best pool complex of all the Disney hotels.  The pool area, Stormalong Bay, is really a miniature water park.  It has a life-sized shipwreck replica with a 230-foot-long waterslide, one of the highest waterslides in all of the Walt Disney World Resort.  It has three whirlpool spas.  And my favorite part is that it is the only hotel at Disney World to have a lazy river!
And if you want a more relaxed, quiet pool, there are three other pools onsite at the Beach Club.
So if you want a break from the theme parks or a break from the heat, check out the pool at the Beach Club.  You will be glad that you did!
10. Enjoy the Hotel's Recreational Activities
Disney's Beach Club offers a lot of fun recreational activities as part of the cost of staying here.  Do you have a "resort day" where you don't go to the parks?  Do you want a change of pace from the parks?  Or maybe you want something for your older kids to do while the younger ones take naps.  Whatever the reason, consider trying some of these activities.
They offer fun arts and crafts activities.  If you like sports, there's tennis and beach volleyball.  You can rent a motorized boat or go fishing.  There are even pirate cruises!
There are also fun activities at night if you don't feel like going back to the parks.  You can watch Disney movies under the stars.  You can roast marshmallows as the sun goes down.
So the Beach Club definitely has extra activities that can make your Disney vacation even more special.
11. Buy Things Before You Go
As I've mentioned before, and as I am sure you are aware, Disney vacations can get expensive.  One way to cut back on the cost is to buy certain essentials before you go.  Because if you don't, you will find yourself buying them on the trip.  And everything costs more at Disney.  I'm talking about the essentials you may not think of beforehand but you will definitely need it.  This includes things like sunblock and ponchos if it rains (more like when it rains since it is Florida!).  We have a full list of things you might want to buy beforehand here.
12. Buy Discounted Disney World Park Tickets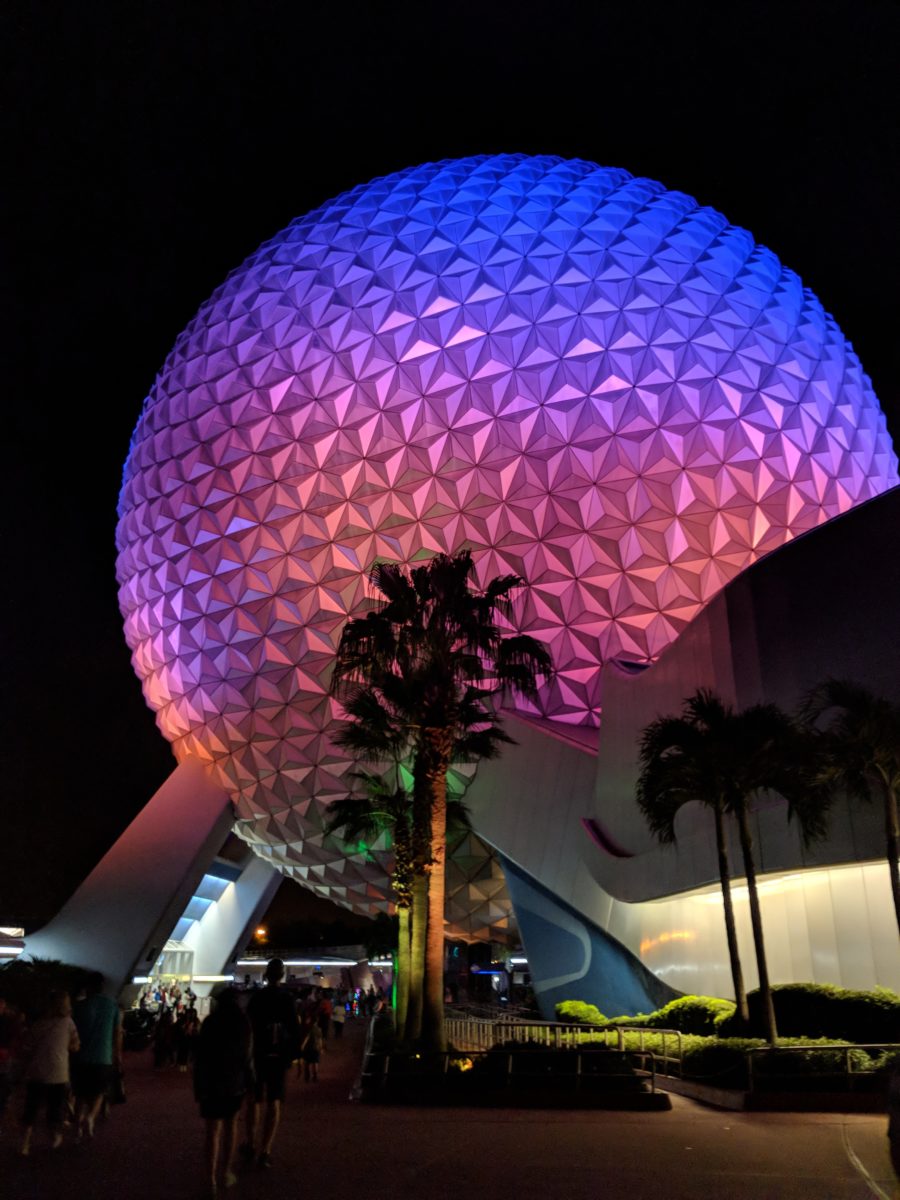 Another way you can save money during a stay at the Beach Club is to spend less money on your Disney World theme park tickets.  Because I know if you're visiting Disney World, you're going to want to go to Magic Kingdom, Epcot, Hollywood Studios, and Animal Kingdom!  And you can buy tickets at a discounted price by clicking here.
Save for later – pin to your favorite travel or Disney World board on Pinterest!