If you click on the links in this post, we may earn money from the companies mentioned in this post, at no extra cost to you. You can read the full disclaimer here.
I've stayed at a lot of Disney World hotels throughout the years.  But one hotel that always stood out as a favorite for my family is Disney's Port Orleans Resort – Riverside.  It is such a beautiful hotel with a really nice relaxing vibe.  I never want to leave on my last day, and on my first day there I always wonder, why do I ever stay anywhere else at Disney World?  It really is a wonderful hotel.
If you are planning a trip to Disney's Port Orleans Riverside then first of all, lucky you.  And secondly, read our tips before you go.  Actually, read these tips before you book your hotel  You'll see why shortly.
Tip #1: Book Your Hotel Through Priceline
Now one reason why I don't stay at Riverside anymore than I do is that it is expensive.  And since it is not a Disney Vacation Club hotel, I can't use this hack to save money.
But recently, I found out a new hack.  And that is to book our stay at Riverside through Priceline.  I was able to book a stay at a discounted price that made the whole stay more affordable.  It was much cheaper than any rate I could not find on Disney's website.
Tip #2: Take Advantage of Onsite Dining
Port Orleans Riverside has multiple dining options.  The one I've eaten at the most is their food court, Riverside Mill Food Court.
It is a food court that offers quick-service meals for breakfast, lunch, and dinner.  I've had a lot of great meals there.  It has a great rustic appeal with wonderful views of the resort.
And during the holiday season, they play great New Orleans-style Christmas music.
For lunch or dinner, I recommend the pizza.
It's delicious and you can share it with your family (which saves you a ton of money).  For breakfast, try the pancakes with the berry compote.
It won't save you money, but it's delicious.
Port Orleans Riverside also has a sit-down restaurant, too.  This restaurant is Boatwright's Dining Hall.
This is a great choice when you are sick of quick service and wanted to be waited on.  My family enjoyed this restaurant, and I suspect yours will, too.
Tip #3: Buy a Refillable Mug
One thing I like about Disney's onsite hotels is the refillable mug system.  You can buy a mug at Riverside Mill Food Court and then reuse it for drinks your whole stay.  This includes fountain drinks, coffee, tea, and hot chocolate (not that you'll need that a lot in Florida, but still).  It really saves you money, especially on a long stay.  And then it makes a wonderful souvenir you can bring home with you.  I love using my mugs while I work.  Makes me feel like I am back at Disney World, which is a wonderful feeling!
Tip #4: Take a Boat to Disney Springs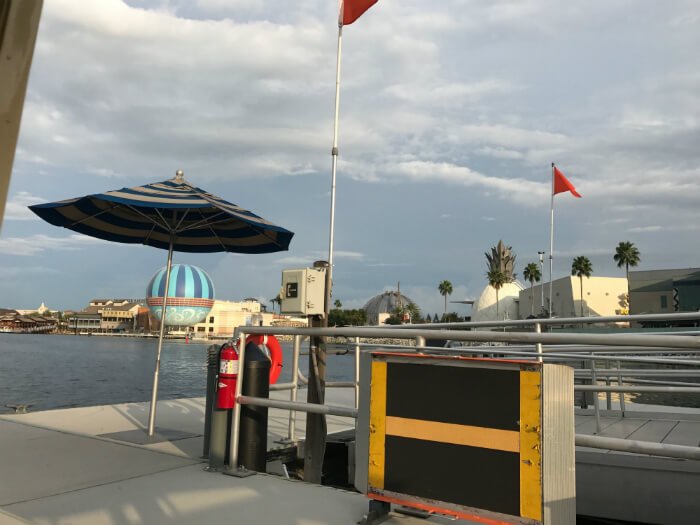 Have you ever been to Disney Springs before?  If you haven't, you really should go!  They have a lot of entertainment, shopping, and unique dining experiences.  Like you can see animatronic dinosaurs at T-Rex Cafe (see our review here) or watch Irish dancing live at Raglan Road (see our review here).
In fact, there are a lot more food options than you can find in the parks.  And unlike the parks, admission into Disney Springs is absolutely free!  This is a great place to go say on your first night of the trip when you don't want to buy a park ticket for a day you won't be there the whole time.
And Port Orleans Riverside gives you a really neat way to go to Disney Springs.  You can take a boat from the dock!
It's a much more pleasant way to get there than a bus.  It's one of my favorite things about staying at Port Orleans Riverside.
Tip #5: Take a Walk or Bike Ride Around the Complex
One of the reasons my family loves Port Orleans: Riverside so much is how beautiful it is.  The Sassagoula River running through it is so beautiful.  There are sidewalks around it.  It makes for a lovely walk.
You can also rent a bike and bike around the complex.
Or you could ride a surrey bike around the complex.
Tip #6: Take a Horse and Carriage Ride
Or here's another unique way to see the hotel.  You can take a horse-drawn carriage ride around the resort!  This is a really fun way to see the hotel.  It can be romantic, too.
Tip #7: Go Fishing
Did you know you could go fishing at Port Orleans Riverside?  Fishing is a fun thing to do while you are on vacation and a neat break from the hustle and bustle of theme parks.  You can read more about fishing at Disney World here.
Tip #8: Take a Swim
Port Orleans: Riverside has a wonderful pool complex.  The highlight is a 3-plus acre hideaway with an old-fashioned swimming hole and sawmill slide.  Adults can enjoy the nearby Muddy Rivers pool bar and a hot tub.  And there are other smaller pools in the resort if you want to swim close to your room and not walk out to the main pool.
Tip #9: Enjoy Other Resort Activities
There are a lot of different activities you can participate in at the resort.  For example, you can roast marshmallows around the fire.  The Campfire on de' Bayou takes place on Ol' Man Island by the playground from 6:00 PM to 7:00 PM.
Another fun nighttime activity is Movie Under the Stars.  They have a different movie playing at the Magnolia South Pool Deck at 8:30 PM on Monday, Wednesday, Friday, and Saturday.
There are other activities that take place here that are often changing.  Just check out the signs when you get to the resort.
Tip #10: Visit Port Orleans: French Quarter
Port Orleans: Riverside has a nice, quaint feel to it.  But if you want more of a New Orleans feel, then head to its sister hotel, Port Orleans: French Quarter.
If you've ever been to the French Quarter in New Orleans before, this hotel will remind you of it.  And if you've never been, this is a great chance to see what it is like.
You can also check out Scat Cat's Club.  They've got live performances starting at 7:30 PM on Wednesdays through Sundays so you can enjoy some swingin' jazz music.  You can also get Southern-inspired specialty cocktails, craft beer, and Mickey-shaped beignets there.
There a couple of ways to get there.  You can walk to the resort from the hotel.
Or you can take a boat to the hotel.  It's the same dock you'd take to take a boat to Disney Springs.
Tip #11: Check Out The Arcade
Want a little fun out of the parks?  Want to save money on buying an extra day's ticket?  Then check out the Medicine Show Arcade!  They have new games and classics for adults like myself.
Tip #12: Buy Discounted Disney World Tickets
If you are staying at a Disney World hotel, then I think there's a pretty good chance you want to visit the Disney World theme parks.  Unfortunately, tickets can be expensive.  Luckily, through our years of visiting Disney World, we've found a few ways to save money on Disney World tickets.  We give our Disney World ticket discount tips here.
Tip #13: Buy Things Before You Go
A ticket won't be the only thing you'll need before a trip to Disney World.  There are a lot of things you need to pack for your trip.  You can buy them once you are at Disney World, but the truth is you will pay more for a lot of these items.  For example, sunblock.  You'll need it since it will get sunny in the park, but it's cheaper if you buy it beforehand.  We have a full list of things you need for Disney World here.