If you click on the links in this post, we may earn money from the companies mentioned in this post, at no extra cost to you. You can read the full disclaimer here.
In 2019, before, you know, the world came to a halt, my family visited the Sheraton Vistana Villages Resort in Orlando, Florida.  We had a wonderful stay.  We recently shared a video with you guys of our stay:
But the video itself is not sufficient enough to tell you guys how much I love this hotel.  So I thought I would tell you ten reasons why I think your family should book this hotel.
And before I get started, let me just say if you are looking to book this hotel, click here.  This is how you can book this hotel for the lowest price available.
1. Spacious Suites
The main reason I recommend staying here is the rooms.  They are gigantic.  The biggest suites are 1,050 square feet.  We stayed in a two-bedroom suite, which you can see from our pictures.
The main bedroom had a king bed and a huge spacious bathroom with a wonderful tub.  The second bedroom had two double beds and its own bathroom.  There was ample closet space for our things.  And the beds were incredibly comfortable.  They advertise having Sheraton Signature Sleep Experience beds, and these beds do not disappoint.  I was tired when I got there and took a wonderful, good, long nap.
The living room area is great, too.  There's a sofa and multiple chairs along with a huge TV.  You can easily sit around and have great family time without feeling like everyone is stepping all over each other.  There's a big table with multiple chairs so you can easily eat meals here or do work.
And the kitchen was one of the best kitchens I have ever seen at a hotel.  It has all the tools you'd need to cook meals yourself.  There's an oven, stove, microwave, even a blender.  You've got a coffee maker (which is great in the morning).  There's a full refrigerator.  They provide you with all kinds of kitchen tools and eating utensils.  You've got all kinds of silverware (knives, forks, and spoons).  Basically, you can easily cook lots of meals here which can save you a lot of money.  It's also a great feature for people with specific dietary needs who need to cook their own meals.
These suites can occupy up to eight people.  So these suites are perfect for a larger family or a multi-generational trip.  You could also go in with another family and split the costs of the suite.  Or this is great if you just want your family to have lots and lots of room.  In short, these suites are a big reason why you should book a stay at the Sheraton Vistana Villages Resort Villas.
Great Location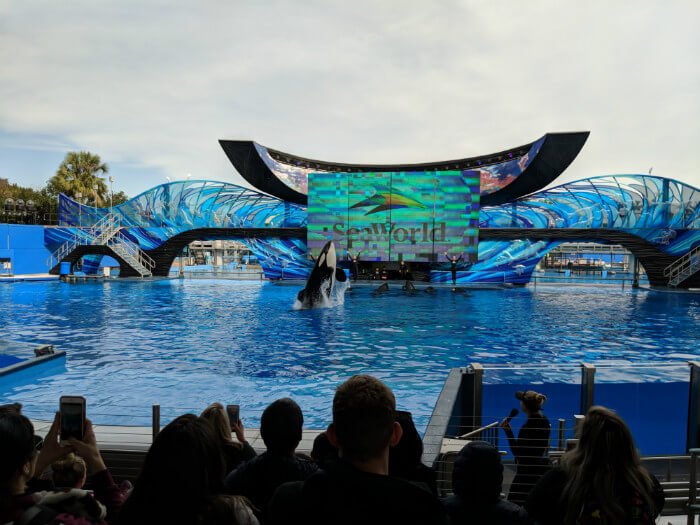 Another reason why you should book a stay at the Sheraton Vistana Villages Resort Villas is the superb location.  It is located on International Drive, which makes it really convenient to a lot of things in Orlando.
First, let's start with the theme parks.  It is closest to SeaWorld Orlando and Disney World.  These are my favorite two theme parks in Orlando so I highly recommend you visit both.  And you can easily visit both by staying here.  It's a very short drive.  It's close to all six Disney theme parks (Magic Kingdom, Hollywood Studios, Animal Kingdom, EPCOT, Typhoon Lagoon, and Blizzard Beach).  And it's also close to Disney Springs, Disney's entertainment district which I really love for its restaurants especially.  It's close to SeaWorld theme park and SeaWorld owned Aquatica (my favorite waterpark ever) and Discovery Cove, a day resort with lots of unique animal experiences like swimming with dolphins.  You're also not too long of a drive from Universal Studios theme parks as well.
A neat thing about visiting SeaWorld from this location, too, is that you can take the I-Trolley to SeaWorld and not have to worry about parking.  This brings me to another point about the location: it is so close to an International Drive Trolley Car.  The International Drive Trolley Car can take you to lots of top attractions and restaurants in Orlando.  You can use it if you don't have a car onsite or you just want to limit your driving in a new town.
Another place this hotel is close to is Orlando Vineland Premium Outlets.  This is my favorite outlet shopping in Orlando.  For starters, it has the best Disney outlet anywhere, in my opinion (and I've visited a lot all over the country).  You can get so many Disney souvenirs at a mere fraction of the prices you pay in Disney World.  If you want a souvenir of your trip and you don't want to pay full price in the parks, you should visit the Outlets.
They have lots of other stores, here, too.  Like when I stayed at this hotel, I went to the outlet and got a great pair of jeans for a really low price.  So if you love shopping like I do, this makes this location better.
Another great thing about the location of this hotel is that it is close to restaurants and grocery stores.  This opens up even more dining options for you and your family.  I made a quick trip to Publix on our first night at this hotel.  I was able to buy food for breakfast for the trip and saved money that way.  If you are planning on cooking during your trip, you could always do your shopping trip at Publix or other nearby grocery stores when you get here.  That way, you won't have to stuff your car with a bunch of food on the drive to Orlando.
You are also close to a lot of restaurants.  I ate at a nearby Subway and UNO Pizzaria & Grill during my stay at the Sheraton Vistana Villages Resort.
Superb Theming
When you go to Florida, you really want to feel like you're in Florida, you know?  And that is one of the reasons I love the Florida theme to this hotel.  The resort is divided up into sections: Key West, St. Augustine, Amelia, and Bella.  As you can tell from the titles, it has a historic Florida feel to it.  You can see it in the architecture, pools, decor, etc.  If you are like me and love Florida, you will love this hotel's theming the way I did.
Fantastic Pools
The pools here are amazing.  They have multiple pools, but my favorite pool would have to be the pool in the St. Augustine section.  It is pirate themed and they even have a pirate ship!  There are also fun water cannons, slides, and water shoots.
My second favorite pool, though, would be the pool in the Bella section.  It's just so pretty with the rocks and waterfalls.
The pools are all really large, too, and you can do fun games in them like volleyball.  The pools will make your vacation in Orlando even more special.
Fun Resort Activities
The hotel is always offering fun daily resort activities for its guests.  Like when we were there, there was a campfire with S'mores and candy cane cookie decorating.  There was a ping pong table meet up.  The list goes on.  All of these things really make you feel like you are a valued guest.  It also makes visiting here summer after summer even more fun.  And it could give your older kids something to do while the younger ones nap.
Other Recreational Activities
In addition to the pool and the daily activities, there are other fun things to do around the resort.
Do you like tennis?  Then you are in the right place because they've got not one, not two, but thirteen tennis courts.  There are also basketball, shuffleboard, and volleyball courts.  There's a game room where you can play arcade games and pool.  Speaking of pool, there are pool tables and table tennis courts around the pool.  In short, you will not get bored at the Sheraton Vistana Villages Resort.  So even if you want a lazy day in between the hustle and bustle of the theme parks, your kids can still find fun things to do.
Dining Options
As I mentioned before, its great location means you're not far away from dining places and grocery stores.  And the full kitchens in your villa means you can always bring food from home.
But what if you're flying in and you don't want to rent a car?  Or don't feel like driving around after a day at the theme parks?  Or you go through all your food?
Well, you will not go hungry at the Sheraton Vistana Villages Resort!  They've got an on-site restaurant, Breezes Bar & Grille.  They are a full-service restaurant serving lunch and dinner.  You can get typical American fare like sandwiches, pizzas, wraps, etc.  They can even send meals to your room and you can take advantage of your in-room table.
If you want to cook for yourself or get a quick microwave meal, then check out the Villages Marketplace.  They've got easy-to-cook meals like microwave pasta, Eggo waffles, frozen pizzas, etc.  But they also have eggs, milk – even Almond milk if anyone in your family has a dairy-free diet.  Between these two options, you're covered.
Though if you want something else, there is light fare and drinks available at the Pirate's Cove Pool Bar at the St. Augustine section.  So all these dining options definitely make staying at Sheraton Vistana Villages Resort even better.
Lowest Price Available for Sheraton Vistana Resort
Looking to book this hotel for the lowest price available?  Then click here and you will be pleasantly surprised at what a low price you can book this hotel for!