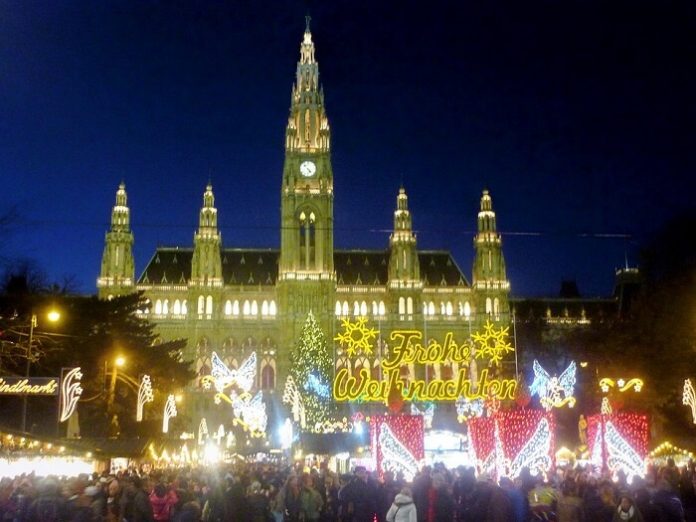 If you click on the links in this post, we may earn money from the companies mentioned in this post, at no extra cost to you. You can read the full disclaimer here.
Experience amazing European Christmas markets when you take a U by Uniworld Christmas Cruise on the Danube River, where you will get to visit the amazing cities of Budapest, Hungary, Bratislava, Slovakia, Passau, Germany, Regensburg, Germany, Melk, Austria & Vienna, Austria.  U by Uniworld will offer you an amazing holiday experience. Here are 5 reasons why:
7 Included Excursions

: Paying extra for excursions can make a cruise a lot more expensive, so it's great that there are 7 excursions included in your cruise that will make your trip even better:

Ruin Pub Rendezvous

: On the first night of the cruise, you'll get a chance to follow your host through a pub crawl of Budapest's extensive scene of abandoned-buildings-turned-raves.  Enjoy the cheap drinks and street art of the city's underground club scene.

Budapest – The Heart of Hungary

: Follow your host for a walk along the Danube, where you'll get see famous Budapest buildings & attractions like Vaci Street with the famous Market Hall, Buda Castle, the Fisherman's Bastion, Elisabeth Square and the Chain Bridge.

The Festive Streets of Old Town

: Enjoy Bratislava's annual Christmas market in Old Town, where you can pick up handcrafted Bohemian Christmas decorations & toys plus you can savor Slovak delicacies

'Tis The Season: Enjoy an evening of Viennese holiday fun when you head into a traditional Christmas market in Vienna at night.
Festive Christmas Market

: Enjoy some of the best and most festive European Christmas markets when you take this morning Christmas market tour in Vienna.

Scenic Passau: Enjoy some of the best views on the German-Austrian border in Passau, an amazing city at the intersection of the Danube, Inn and llz rivers.  Get amazing views from Veste Oberhaus, walk through old town alleys and see the beautiful St. Stephen's Cathedral.
Medieval Regensburg: Take a walk through Regensburg's well-preserved Old Town.  Visit landmarks like the Old Stone Bridge and the Regensburg Cathedral. Then have at one of the city's many beer pubs.

2 Dedicated U Hosts

: If you've never visited these cities before, then you'll be happy to know that the cruise has 2 dedicated U Hosts that will guide you on the included excursions and will teach you a lot about these city's culture & history

11 Optional Tours

: If you want extra excursions on top of what's included, then you've got them! You can (if you'd like) visit:

Budapest's Best:

See the great sites of Budapest (like the Jewish Quarter & Parliament). Enjoy delicious Hungarian street food from a local market.

Hungarian Holidays

: On this guided tour, you'll see Christmas décor at the Philanthia shop, explore St. Stephen's Basilica, have drinks at the Rooftop Igloo on Andraszi Street.

Taste of Bratislava

: Enjoy local street food & beer in Bratislava's Old Town. Then get amazing views of Danube River from the observation deck on Budapest's famous cable bridge.

Festive Vienna

: Enjoy wonderful sightseeing in Vienna when you get to see the Albertina, Charles Church, Burggarten, and more.   You'll also get to try local delicacies like palatschinken, cheese and wine at Vienna's best-known market, Naschmarkt.

Rock Me, Amadeus

: Enjoy a classical music performance in Vienna by a professional chamber orchestra at Klosterneuburg Abbey, a 900-year-old Augustinian monastery

After Hours at the Castle

: Get a guided tour of Schönbrunn Palace, the former summer residence of the imperial family, after hours while you're in Vienna

Burg Clam

: While you're in Melk you can visit Burg Clam, which was the family home of the Counts of Clam for more than 5 centuries.

Dear Abbey: The baroque-style Melk Abbey is home to medieval manuscripts, optical illusions, cleverly concealed doors & other intriguing secrets.  You'll get to see its library, Emperors' Gallery and the Abbey Church.
Ilz Winter Walk: Light a torch and take a nighttime scenic walk along the Ilz River.  Your guide will lead everyone in singing Christmas songs.  You'll enjoy delicious holiday treats & mulled wine.  You'll even get to stop at a beautiful, festive barn.
Revved Engines: Take a tour of Regensburg's high-tech BMW factory to see how the Ultimate Driving Machine is made.
Regensburg Through the Ages: Learn about Regensburg's fascinating history when you hear fascinating stories and see re-enactments.

Local Celebrity DJ Party Onboard

: Because how much fun will this be?

Included Meals: Included in the price of your tour is 3 included meals daily, which helps you really plan out your trip's expenses ahead of time.