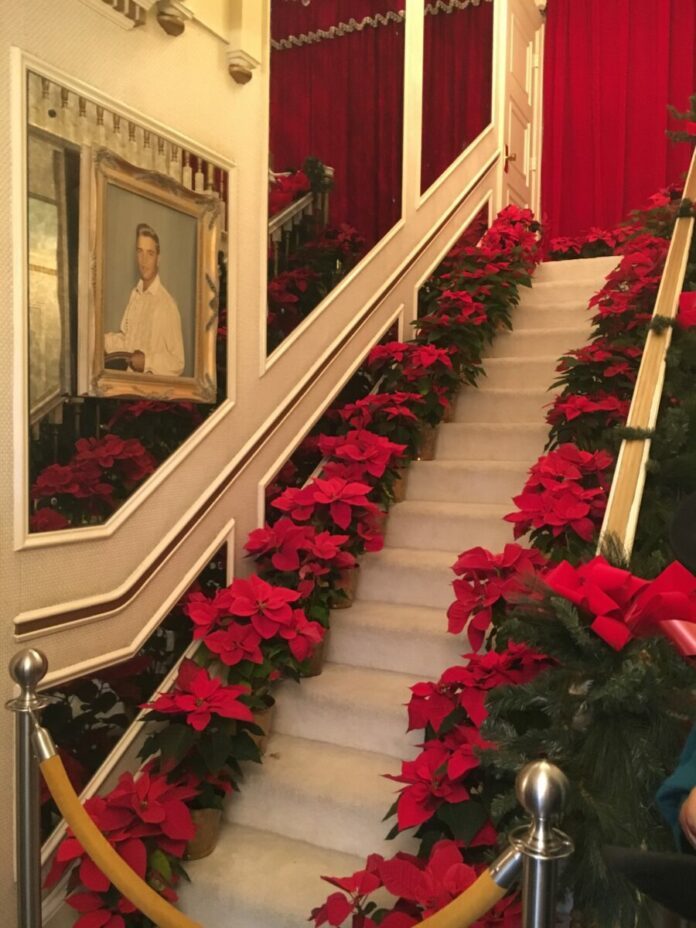 If you click on the links in this post, we may earn money from the companies mentioned in this post, at no extra cost to you. You can read the full disclaimer here.
My family loves traveling to Memphis, Tennessee.  And when we visit Memphis, we love going to Graceland!  I love taking tours of the house and seeing all the special exhibits.
But one of the best times I've ever been to Graceland was around Christmas.  Graceland is so beautiful when it is decorated for Christmas.
There is so much going on at Graceland during the holiday season.  I am going to tell you about some of the best parts of visiting Graceland during the holiday season, including special events.  And then I'm going to tell how you can save money on your trip with some coupons!
Graceland Home Tours
Did you know that Graceland was rated as the Best Historic Holiday Home Tour by USA Today's 10Best Readers for two years in a row (2019 & 2020)?  This is definitely a home you are going to want visit during the holiday season!
Outside the home are beautiful Christmas decorations.  They do a great job keeping up Elvis' holiday decorating traditions.  There are thousands of traditional lights outside the home.  And of course, these lights include hundreds of blue Christmas lights!  You can also see Elvis' Santa and his sleigh lawn decorations as well as a life-size nativity scene.
They decorate the inside of the home as well.  The interior of the Graceland Mansion is decorated with Christmas décor, including Elvis' traditional red velvet drapes.  There are also Christmas trees throughout the home and Christmas artifacts on display.
You can take specific Christmas tours of Graceland.  You can also see the Christmas decor during a regular tour of Graceland.
Graceland Lighting Ceremony
The holiday lights are a beautiful thing to see during the holiday season in Graceland.  And now for the first time ever, you can see the holiday lights when they first go up in Graceland!
The Holiday Lighting Weekend takes place at Graceland from November 16, 2023, through November 18, 2023.
The Annual Holiday Lighting Ceremony officially takes place on Thursday, November 16, 2023.  It takes place at 6:00 PM at the Graceland Plaza Green.
Enesco Gift Shop & Department 56 Gallery
A new holiday tradition is beginning this year!  Immediately after the lighting ceremony will be the grand opening of the World's Largest Display of Department 56 Villages at the new Enesco Gift Shop and Gallery.
It is a wonderland of vignettes and dioramas.  It has over 1,500 individual Christmas village pieces.  It will be fun to enjoy this during the holiday season.
Santa will be at the opening and will be available for photos, and while supplies last, you can get a free ornament.
Christmas with the Paiges
On Friday November 17th, there will be a concert at the Guest House Theater at the Guest House at Graceland.  The musical duo of Kevin and Bethany Paige will be singing Christmas hits that would make the Carpenters proud!  Tickets are $20.
Hallmark's Christmas at Graceland Double Feature
On Saturday, November 18th, there will be a double feature over at the Guest House Theater att the Guest House at Graceland.  You can see Christmas at Graceland at 7:00 PM and Christmas at Graceland: Home for the Holidays at 9:00 PM.  This is free to attend, but seating is available on a first-come, first served basis.
Holiday Concert Weekend
There's a holiday concert weekend from December 1, 2023, to December 2. 2023.
On December 1st will be Terry Mike Jeffrey's salute to Elvis' holiday hits.  Then on December 2, you can enjoy Dean Z's high-energy rockin' Christmas show.
Graceland Lodging
What's a better way to enjoy Graceland at Christmastime than to stay at one of the Graceland hotels?
If you've ever watched the Hallmark Channel's Christmas at Graceland Movie, then you probably noticed just how beautiful the Guest House at Graceland was.  That is the hotel that Kellie Pickler's character stayed in during the movie.  You can get great rates for the Guest House at Graceland by clicking here.
If you want to stay near Memphis but not at Graceland, then click here for some great rates on hotels near Memphis.