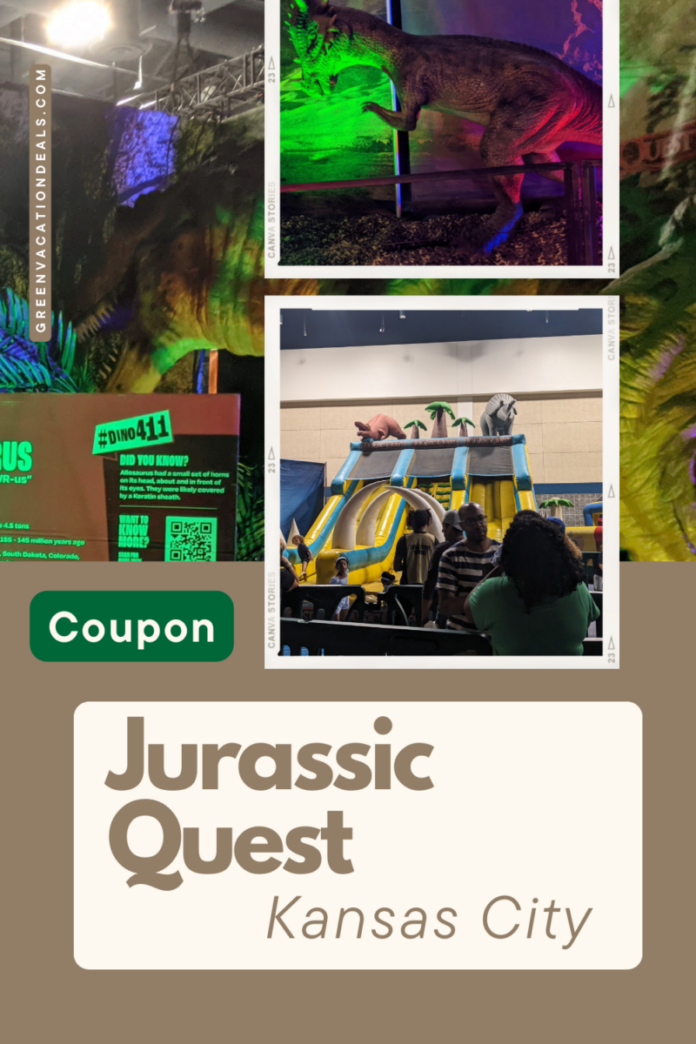 If you click on the links in this post, we may earn money from the companies mentioned in this post, at no extra cost to you. You can read the full disclaimer here.
Have you ever been up close and personal with a life-sized dinosaur?  No, I don't mean seeing a Jurassic World movie at an IMAX theater.  But I mean a dinosaur who can move and make noise and you could even reach out and touch.
That is what is so great about the touring event Jurassic Quest.  It gives us the chance to do something we may never have thought possible.
And that is thanks to the team behind Jurassic Quest who consulted with paleontologists to bring us all this experience.  They have made these dinosaurs as realistic looking as possible.  You'll learn so much from seeing these dinosaurs.  And they provide helpful facts about the dinosaurs, too, so you'll know what you're looking at (like, are they from the Triassic, Jurassic, or Cretaceous period?  Now you'll know!).
But this is an event for all ages.  So even if your youngest child can't learn about dinosaurs the way your older children can, they can enjoy the dinosaur-themed play areas at these events.  Young guests love riding the dinosaurs, digging for fossils, or playing at the bounce house.
So this makes Jurassic Quest a wonderful thing to do this weekend for families in Kansas City.  And it gives your family something to do this weekend since traveling to Germany to watch the Kansas City Chiefs play in person is probably out of the question.
It will be at the Overland Park Convention Center in Leawood, Kansas from November 3rd, 2023, to November 5th, 2023.  It will be open from 12:00 PM to 8:00 PM on Friday, 9:00 AM to 8:00 PM on Saturday, and 9:00 AM to 7:00 PM on Sunday.  Keep reading to find out how to save money on tickets.
Coupon Code
So I don't so much have a coupon I just have something better: an automatic discount.
You'll just need to purchase your ticket here and then you automatically save 25% on your ticket.  No coupon code or promo code is even needed!
But hurry – as I found out the hard way, discounted tickets for Jurassic Quest sell out quickly so you'll need to purchase these tickets ASAP.