If you click on the links in this post, we may earn money from the companies mentioned in this post, at no extra cost to you. You can read the full disclaimer here.
Have you ever wanted to stay at Disney's Wilderness Lodge?  This was a dream of my family's that we finally achieved a few years ago.  Fast forward to today, and we've stayed there multiple times.
We absolutely love staying at this hotel.  It's really close to Magic Kingdom, which of course we love.  But at the same time, it really does feel like you get to escape to a whole different place.  You really feel like you have gotten away from it all and are at a secluded woods out west.  It really makes for a great vacation.  You get relaxation and excitement all in the same trip!
You can see for yourself in our virtual tour.
So we know you'll love a stay here.  But before you go, we wanted to share some tips with you to make your stay even better.  So make sure you read these before you book your stay!
1. Book Your Stay Through David's Vacation Rentals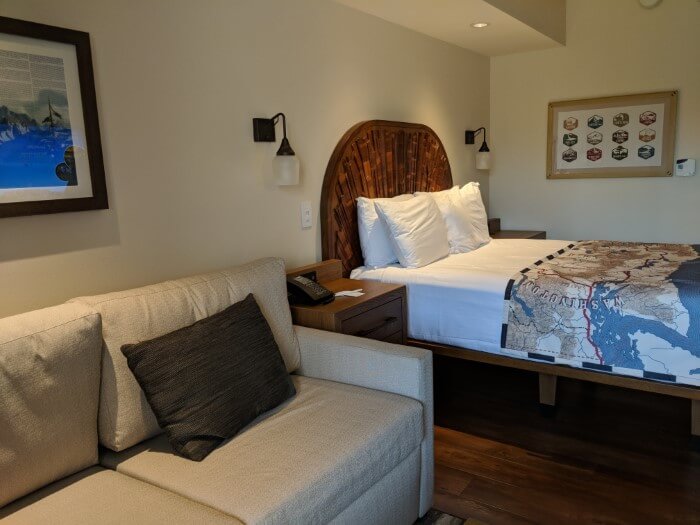 If you've ever searched for a stay at the Wilderness Lodge, you may have noticed the prices are pretty high.  They are often in the $600s/night pre-taxes.  Part of why my family never stayed here for many years even when we wanted to was because of the high price point.
But that was before we discovered David's Vacation Rentals.  It is a total game-changer.  You see, there are Disney Vacation Club villas available at the Wilderness Lodge.  You can get a villa in the Boulder Ridge section of the Wilderness Lodge and the Copper Creek section (we've stayed in both and loved both!).
But you may be thinking, I'm not a Disney Vacation Club member, I couldn't stay there.  But I'm not a DVC member, either.  The truth is, you don't have to be a Disney Vacation Club member to book through David's.  How it works is that you rent points from other members and you can stay at a DVC villa that way.
Now, if that sounds confusing, don't worry.  It's not as confusing as it sounds.  We go over how to do it here.  And it is so worth any initial confusion.  Because the last time we stayed at Wilderness Lodge, we paid less than $300.  Yes, you read that right.  And with David's, there are no parking fees or extra taxes added on.  So you could book a room at the Wilderness Lodge for more than half off of what you would pay normally for a room through another website!
And another great thing about booking a Disney Vacation Club villa is that you can get much bigger rooms.  In addition to a studio, you can get a 1-bedroom, 2-bedroom, or even a 3-bedroom villa.  This is really great, especially if you are booking a vacation for your extended family (like you're bringing along your kids and your parents), you have a large family, or you just like a lot of room.
So click here to get started booking a villa at the Wilderness Lodge.
2. Eat Meals In Your Villa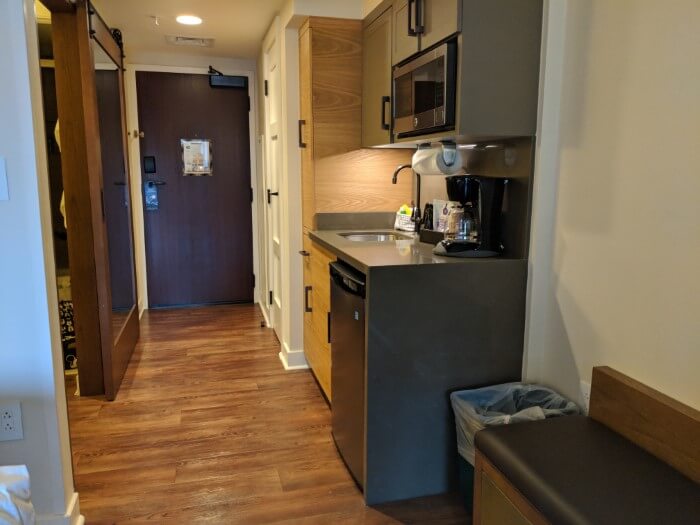 So in addition to saving money by staying in a villa versus a traditional room at the Wilderness Lodge, there are other perks.  One of those is the fact that Disney Vacation Club villas have full kitchens.  This can be a real game-changer in terms of saving money.  If you've ever been to Disney World before, then I don't have to tell you how expensive meals are here.  You can save a lot of money by cooking all your meals out of your villa.  They give you enough equipment and utensils that you can cook all your meals here.
And I know what you may be thinking.  This is your vacation, do you really want to cook the whole time?  But you can still save money even if you prepare quick meals in your room, like these.  Or you can decide to just cook some meals here.  You can even bring back leftovers and then make two meals out of one restaurant visit.  Even if you just cook a few meals, it will save you money.  And I know you'd like that!
Oh, and you can also grill out food!
3. Eat Meals at One of Wilderness Lodge's Restaurants
Now, if you've ever stayed at one of the value hotels at Disney World, then you know you can eat meals at the food court but that is it.  They don't have multiple on-site restaurants.
But you get that at Wilderness Lodge.  There are multiple restaurants right on-site.  Our favorites are the Roaring Fork and Geyser Point Bar & Grill.  You can read a review we wrote for Geyser Point Bar & Grill here.  You can get a lot of delicious food with great theming here.  So take advantage of these options and eat a meal here.  It can make for a great relaxing evening if you don't want to back to the park after naps.  And we highly recommend the bison burger!
4. Watch the Magic Kingdom Fireworks from Wilderness Lodge
Now, watching fireworks at Magic Kingdom is great.  You can hear the music, enjoy the projections and get great views of the whole fireworks show.  That is, if you wait around for awhile to get a good spot.
But you can get a lot of that at the Wilderness Lodge without having to wait around four a few hours to get a good spot.  You can get great views of the fireworks near Geyser Point Bar & Grill.  They pipe in the music of the fireworks so you get to see the fireworks set to the music.  The views aren't as good in the park and there are no projections.  But it is so worth it to not have to wait around!  So definitely try this one night.  And by the way, this works great after a meal at the hotel, either one you cook in your kitchen or at one of the restaurants!
5. Take a Swim in the Pool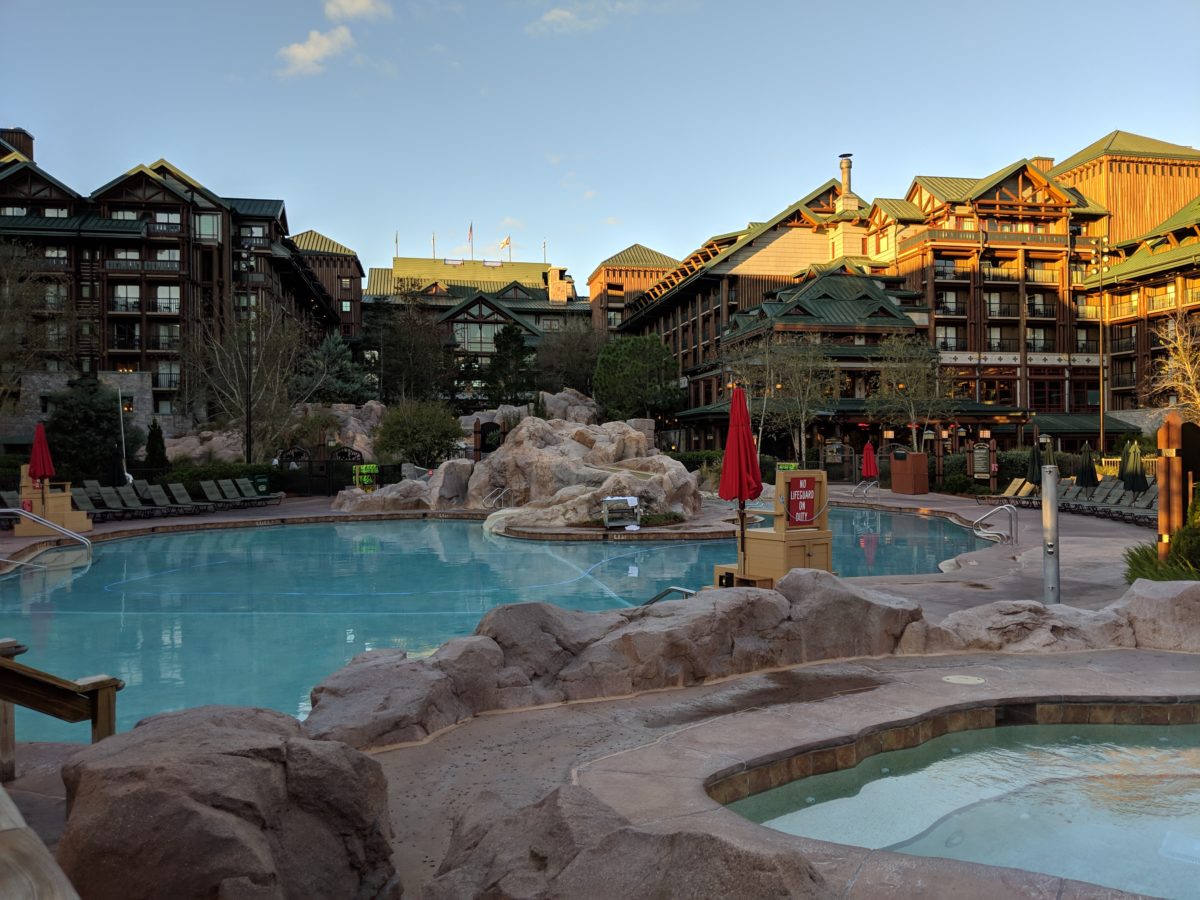 The pools at Wilderness Lodge are awesome.  The main pool is the Copper Creek Springs Pool.  It's beautifully themed with rocks, and there's even a 67-foot waterslide built into rocks.  It also has hot and cold whirlpool spas.
I really like the pool at Boulder Ridge, too.  There's no 67-foot waterslide.  It does, however, have a lot of the same theming as the main pool.  But the main selling point to me is that's not as crowded.
But either way, as a guest of the Wilderness Lodge, you can swim in either pool.  I really loved swimming here during my last stay at the Wilderness Lodge, and I highly recommend it.
6. Check Out The Geyser
A really neat feature of the Wilderness Lodge that makes it truly unique to the Walt Disney World Resort is its geyser.  The Fire Rock Geyser explodes water every hour.  I've seen Old Faithful at Yellowstone National Park and it really reminds me of it.  So at some point during your stay, check out the geyser!
7. Take a Boat to Magic Kingdom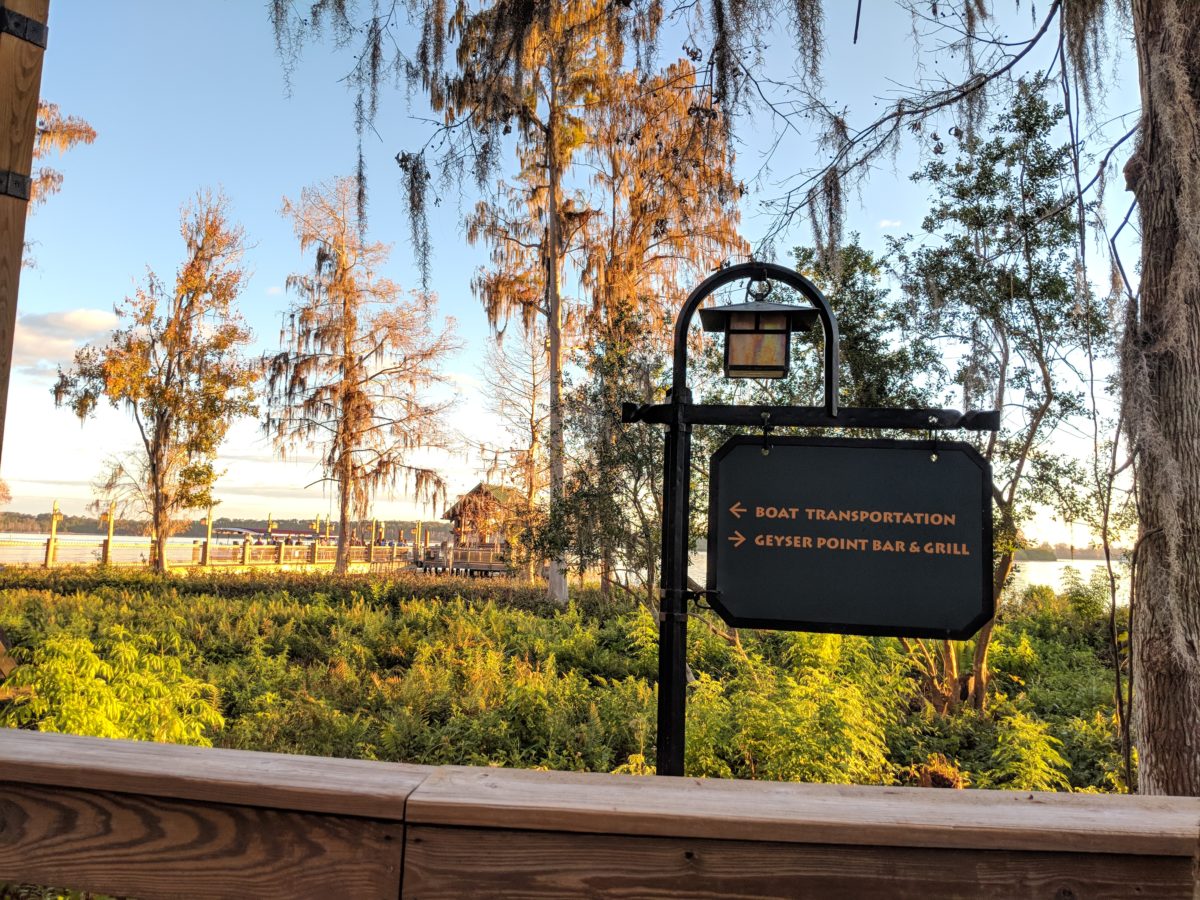 One of the reasons to stay at a Disney World hotel is you get great transportation to the parks.  Which is great, because if you've ever driven to the parks, you know it can be a huge pain.  And it's also great if you fly to Orlando because it means you won't have to rent a car.
But Wilderness Lodge has even more special transportation.  You can take a boat to the Magic Kingdom!  It's a really fun way to get to the park, and a lot more special than just taking the bus.  And they drop you off really close to the entrance, which is great, especially when you leave the park!  So if you visit Magic Kingdom during your Wilderness Lodge stay (and I think you will!), definitely take advantage of this transportation and use the boat!
8. Watch the Electrical Parade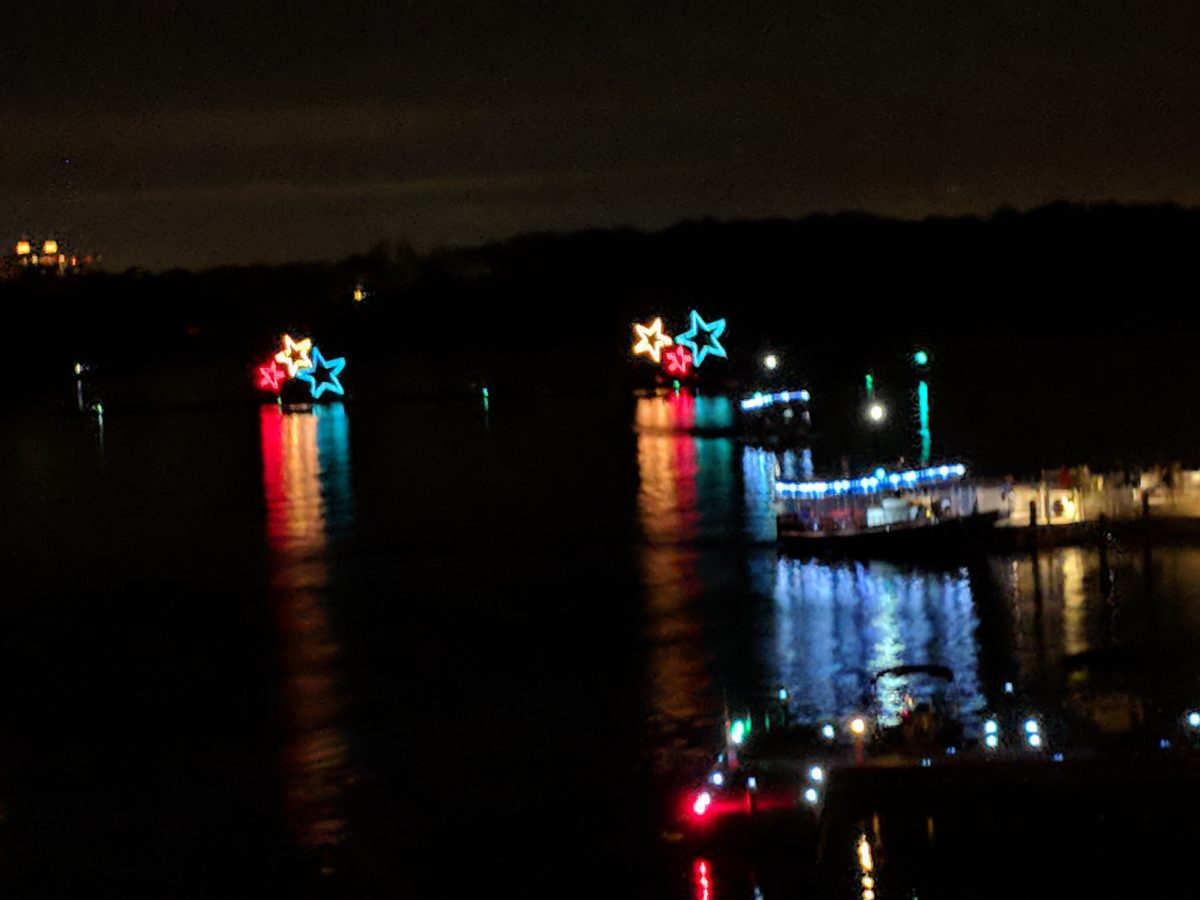 Another neat feature of the Wilderness Lodge is that you can watch Disney's Electrical Parade!  Now, what is the Electrical Parade?  You may have noticed it before as you leave the Magic Kingdom at night.  You may have seen it from a monorail or the ferry transportation back to the Ticket and Transportation Center.  Or maybe you've stayed at another Disney hotel where you can watch it, which would be Grand Floridian, Polynesian, Fort Wilderness, and Contemporary.
But if you haven't seen it yet, you are in for a treat.  You get to see beautiful sea creatures and patriotic themes sail through the Seven Seas Lagoon to classic Disney songs.  My family really loves it.  And you get to watch it from the comfort of the hotel!
9. Get a Refillable Mug
So one of the things I really like about staying onsite at a Walt Disney World hotel is Disney's refillable mug program.  How it works is that for one price, you buy a mug.  And then throughout your trip, you can keep refilling that mug for free!  If you eat a number of meals at the hotel and keep refilling your mug, these mugs really pay for themselves and then some.  And then the mugs make for a wonderful keepsake of your trip.
10. Take Time to Enjoy the Outdoors
As I alluded to earlier, one of the best things about the Wilderness Lodge is how you can feel like you are escaping in nature even during your Disney World trip.  So if you stay at Wilderness Lodge, take advantage of this.  Weather permitting, consider eating a meal outdoors.  Take a walk around the hotel.  They pipe in noises at night that really make it sound like you are in, well, the wilderness.  Admire the plants, flowers, rocks, water, and trees.  My dad is from Maine and he said the woodsy feel of the resort really makes him feel at home.  So it's just a great atmosphere you'll want to take advantage of and savor.
11. Take A Run
A great way to enjoy the outdoors while you are the Wilderness Lodge is to take a run, jog, or walk on their running trail!  Disney hotels have running trails, but the one at Wilderness Lodge is really special because of how you'll feel like you're running deep into the woods in a national park.
12. Spend Time in the Lobby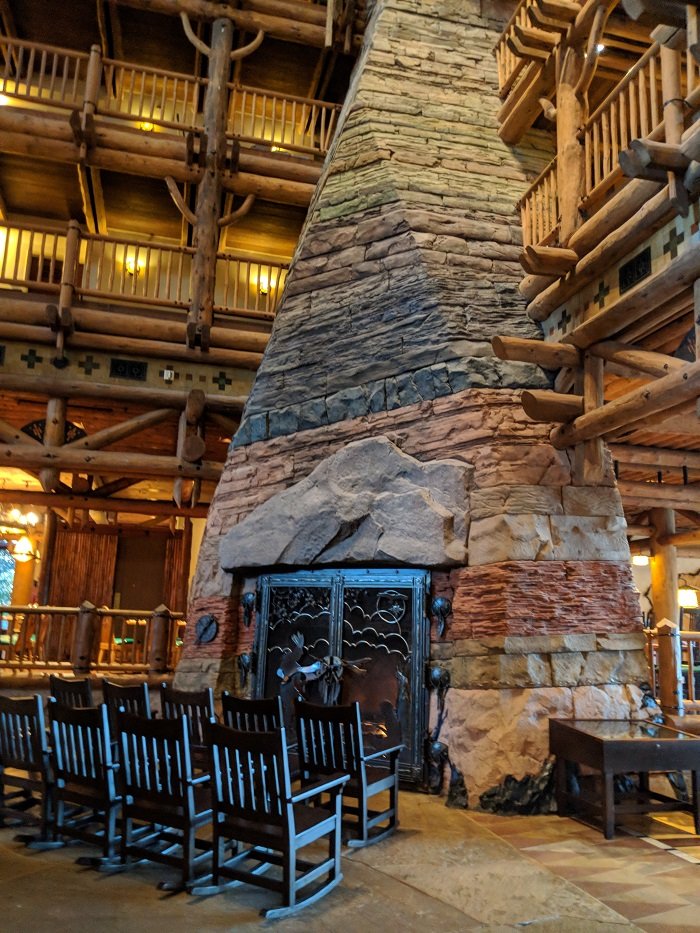 A lot of the hotels at Disney World have impressive lobbies.  But one of my favorites would have to be the lobby at Wildnerness Lodge.  It is truly breathtaking.
But now that we can check-in to the hotel online, I know I don't always spend a lot of time in the hotel lobby.  And while you may not have to spend time in the lobby, I would recommend you spend some time here.  Even if it's just waiting for a to-go order from the Roaring Fork.  Just look around and enjoy the impressive lobby.  It really is beautiful and it perfectly captures the Pacific Northwest and the national park lodge feel.
And if you stay here during the winter and it's cold, you can warm up near the fireplace!
13. Take Advantage of Other Hotel Amenities
In addition to all the other things you get by staying at the Wilderness Lodge, there are even more activities you can enjoy at the hotel.  You can rent a boat or a bike.  You can go fishing.  The hotel has a wonderful arcade and you can play video games there.  You can watch a Movie Under The Stars between the marina and Geyser Point Bar & Grill.  Basically, there are a lot of things to do at this hotel.  Take advantage!
14. Buy Essentials Before You Go
Once you get to Disney World, you will realize there are certain essentials you need for your trip that you have may not have bought.  This includes ponchos for when it rains (it is, after all, Florida), sunblock, band-aids, etc.  You can buy these at Disney World.  But it will cost a lot more money.  So consider buying these essentials before you head to Disney World.
15. Buy Discounted Disney World Tickets
So as I have discussed in this blog entry, Disney World can get expensive.  And one of those expenses is the theme park tickets.  But if you're staying at Wilderness Lodge, of course, you're going to want to go to the parks, right?  So it's a necessary expense.
But it doesn't have to be as expensive as you think.  You can get discounted tickets to Disney World like these.
Save this to your favorite Disney World or travel board on Pinterest!