If you click on the links in this post, we may earn money from the companies mentioned in this post, at no extra cost to you. You can read the full disclaimer here.
Have you ever stayed at Disney's Old Key West Resort?  My family highly recommends it.  It's one of our favorite Disney World hotels.
1. Rent DVC Points to Book Your Stay
Now, if you are a Disney vacation member, you can ignore this part.  But if you are not a Disney vacation member, then I am sure you'll want to know about this.  And that is my biggest tip for non-DVC members who want to stay at Old Key West.  And that is to rent DVC points to book your stay.
Because the thing is, you do not have to be a Disney Vacation Club member to rent points and book a stay at the Old Key West Resort.  My family does it all the time.  We did it just last November and paid about $250 per night.
And that is total, too.  The great thing about renting points through David's Vacation Rentals is that you don't have to pay for parking.
So honestly, it can be cheaper to book a DVC rental through David's Vacation Club than it is to book even a value resort at Disney World.  And that is pretty awesome since Old Key West is considered a luxury resort.
That means you'll get a lot of perks like a much larger room and better pool complexes with a water slide.  But it also means you can get extra hours in the evening in Magic Kingdom or Epcot (depending on the day) just because you are staying at a deluxe hotel!  You don't get that when you stay at a value or moderate hotel.  So you'll be paying less but getting more perks!
It truly is a wonderful Disney World Vacation hack that I encourage you to try.  We go over the process of how to do it here.
2. Request a Room Ahead of Time – And Be Persistent
Now, I really love the Old Key West Resort.  But one thing about it that honestly is pretty awful is that the hotel is not completely handicap accessible.  There are no elevators in the majority of the resort.  Only buildings 62, 63, and 64 have elevators.  The rest do not.
Now, this may not be an issue for your family, and if so, great!  But it is for my family.  So last time we stayed here, we requested a room ahead of time.  I explained our situation when I requested a room.  But when we got to our room, it was in a non-handicap accessible building on an upper floor.
So we went to the front desk and explained our situation.  Luckily, though, they were extremely nice about it.  We had to wait longer for our room, but that was fine.  We eventually got a first-floor room.
So my advice for you is that if you are in a situation like ours, try to request a room on the first floor.  And then if that does not work, be persistent with the front desk.
But even if you do not have a special need, you may want to request a room ahead of time.  It is a really big resort so where you stay matters more than if you are staying at a more compact resort, like Bay Lake Tower at Contemporary Resort.  So you might want to request, say, a room near a pool.  Now, as my example showed, you may not get the room you want.  But you could, so it is worth a shot!
3. Bring Your Own Food
All of the Old Key West Resort rooms are Disney Vacation Club rooms.  And what means is that they all have kitchens.  This means you have access to a refrigerator, microwave, coffee maker, and toaster.  They even provide silverware, plates, bowls, and cups.
At Old Key West, the studios have tables with a couple of chairs.
The one-bedroom and two-bedroom suites have more table options for you to sit at while you eat.  And all the rooms at Old Key West have either a balcony or a patio.  There are tables and chairs on them.  This atmosphere makes for a really great meal, as long as the weather permits.  Some of the views are spectacular since the resort and onsite golf course are so beautiful.
So if you want to save some money on your trip, take advantage of this by having a meal or a few meals in your room.  You can bring your food ahead of time if you are driving.  If you are an Amazon Prime member, you could also consider having food shipped to your room.
A good meal to save money on would be breakfast.  This is true because your room could be very far away from the main lobby where the dining options are.  It takes up a lot of time to walk over there, so you could save time and money by eating in your room.  There are bus stops throughout the resort.  So you could use the bus stop closest to your room after your breakfast to get to the parks early.  You can have breakfast foods sent to you through Amazon Prime or order them ahead of time and bring them with if you are driving to Disney World (or bring them in your luggage if you are flying).
4. Get Refillable Mug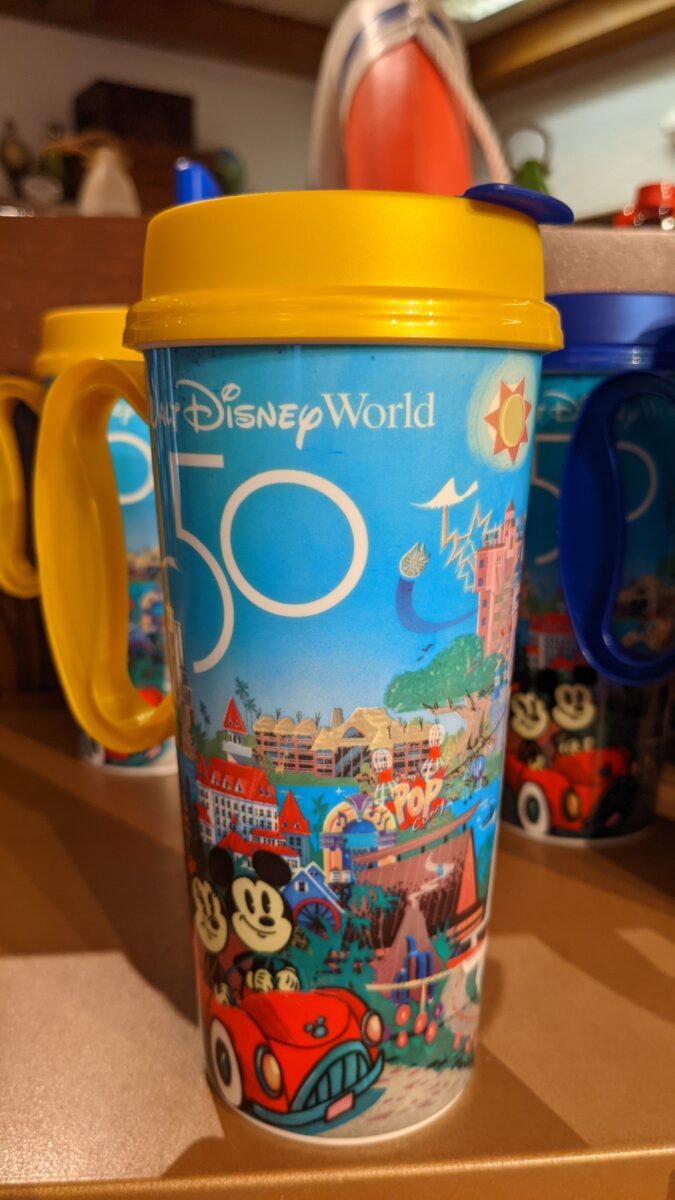 Another way to save money on your food and drink is by purchasing a Disney refillable mug.  You buy the mug one time, which you will be able to keep as a souvenir.  And then throughout your trip, you can keep refilling it.  Since drinks can be expensive at Disney World, this can save you money.
Now, one important thing to note is that because Old Key West is such a large resort, you may not be that close to a refillable mug station.  And in that case, you may decide it's not worth it if it takes up too much time to get the refillable mug station.
One of the refillable mug stations is by Gurgling Suitcase at the Hospitality Area of the resort near the lobby.  I stayed in a room near there once and it was really convenient refilling my mug.
The other place you can refill your mug is by the Turtle Pond Pool.  Now, it is not overly apparent when you are there where to go to get this refillable mug station.  It is near Turtle Snacks, which I expected.  But it is actually inside the Flying Fish Gameroom.
I misunderstood and thought this refillable mug station was not open in the morning.  I found out (on my last day, of course!) that it is open in the morning, too, so keep that in mind if you are staying near the Old Turtle Pond section.
5. Take a Boat to Disney Springs
One of my favorite things about Disney's Old Key West Resort is that it offers guests boat transportation to Disney Springs.
My family and I love Disney Springs.  If you're not familiar with Disney Springs, it is not a theme park but a shopping, entertainment, and dining district.  It used to be called Downtown Disney.  There are a lot of fun things to do here.  They have a really great Disney store if you like buying souvenirs.
But my favorite part of Disney Springs are all the great restaurants are there.  Theme parks are a lot of fun, but they don't always have the best restaurants.  But there are some really great, unique restaurants at Disney Springs.
You can read reviews from three of our favorite restaurants:
So I like visiting Disney Springs no matter what hotel I stay in.  But it's really neat visiting Disney Springs via boat.  That boat ride itself is really nice, and a bit more special than riding in a bus.
6. Get a Drink at Gurgling Suitcase
If you want an adults-only drink, then sit down at the Gurgling Suitcase.  It is a Key West-style bar with lots of specialty drinks and cocktails.  Current drinks you can get include:
Key West Loaded Bloody Mary
Key West Freeze
Turtle Krawl
Slappy Joe's Bourbon Berry Lemonade
Blood Orange Margarita
Spicy Poblano Margarita
Watermelon Margarita
Rum Swizzle
Raspberry Mojito
Bacardi Mojito
Walk The Plank
Whiskey Breeze
Kentucky Mule
Moscow Mule
Bahama Mama
Magical Star Cocktail
Captain's Mai Tai
Godiva Chocolate Martini
Red Sangria
Piña CoLava
You can even order menu items off Olivia's Cafe for lunch and dinner.  And Gurgling Suitcase is located in the Hospitality Area along the dock so you can enjoy the great atmosphere and views of the water.  Sometimes at night, they have live music.
7. Enjoy Resort's Amenities & Recreational Options
Old Key West is not just a hotel, but it is a resort.  And they have a lot of great amenities and things to do that can make your Disney World trip even better.  So take advantage of some of these while you are there.
Like, consider taking a dip in their pool.  It is beautifully themed.  I love the lighthouse!  Their pool has a fun sandcastle-themed water slide and hot tub, too.
This is a great way to stay cool in the afternoon.  There are also three other pools in different parts of the resort (Miller's Road, South Point, and Old Turtle Pond) if you want a quieter swim closer to your villa.
Or if you want to work up a sweat, consider playing at the tennis court, basketball court, or volleyball court.
You can rent a bike or a Surrey Bike for two or four people!
They have more than one game room (Electric Eel Gameroom near the lobby and the Flying Fish Gameroom in the Turtle Pond part).
There are also three different playgrounds for young kids with too much energy.
There are also fun activities at Conch Flats Community Hall near the lobby, like pool and foosball.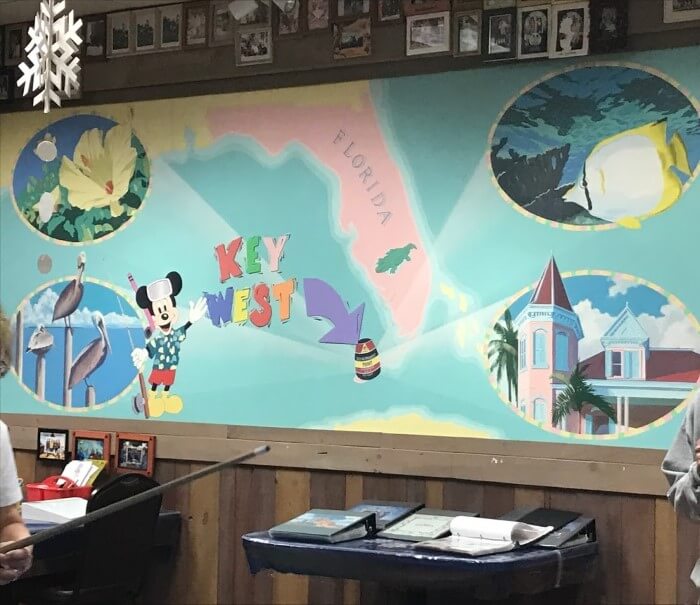 Other fun activities you can do at the resort include old-fashioned family campfires, fishing, and a movie under the Stars.
8. Use Your Car to Get Around The Resort
Now, this tip only applies if you brought a car or you rented a car.  But if so, and you are staying far away from the main building, then consider using your car to get around the resort.  Especially at night.  We would use our car to park closer to the main building and then take the boat to Disney Springs to go to dinner.
See, one thing I don't like about the Old Key West Resort is that while it is so beautiful, the sections are all pretty similar looking.  So it is really easy to get lost.  And it is even easier to get lost at night.  It's a bit easier to say get around Art of Animation, where it is clear where say the Radiator Springs section ends and the Finding Nemo section begins.
9. Get Discounted Tickets to Disney World
I know you're going to want to go the Disney World theme parks (Magic Kingdom, Animal Kingdom, Hollywood Studios, and Epcot) during your time at Old Key West, right?  And you may want to do the water parks (Typhoon Lagoon and Blizzard Beach) if they are open as well.
Well, you can find out how to get discounted prices for these theme parks by clicking here.
10. Buy Necessities Before You Go
There are things you may need on your Disney trip that you often don't think about before you go.  For example, it rains a lot in Orlando, so you'll probably want a poncho.  It also gets really hot in Orlando.  So you'll need sunblock.
You can buy all these things at Old Key West.  But you probably wouldn't be stunned to find out that Disney will charge you a lot more than it is really worth.  So you benefit from shopping online before you go.  We go over a list here of things you can buy beforehand to save you money on your Disney trip.
Save this for later – pin it to your favorite travel or Disney board on Pinterest!