If you click on the links in this post, we may earn money from the companies mentioned in this post, at no extra cost to you. You can read the full disclaimer here.
Disney's Hollywood Studios is the third of the four theme parks at Walt Disney World Resort (the other three being Magic Kingdom, Epcot & Disney's Animal Kingdom).
In this guide, we'll go over the different attractions, restaurants and stores at Hollywood Studios. We'll also talk about where to stay, how to save money on your trip, and other tips for visiting Disney Hollywood Studios in Orlando Florida.
Background
When the park first opened in 1989, it was meant to be not just a theme park but also a fully functioning production studio (not unlike Universal Studios Hollywood).
In addition to rides, there was Walt Disney Feature Animation Florida (which saw the production of various Disney animated features, including Mulan and Lilo & Stitch).
Walt Disney Studios Florida, which consisted of three sound stages, were used for both Disney projects (such as The Disney Channel's Mickey Mouse Club) and third party projects (such as the first season of the tv series Superboy).
The name of the park at that time was Disney-MGM Studios, with MGM referring to Metro-Goldwyn-Mayer film studios (as Disney had a licensing agreement with MGM at that time).
The name was changed to Disney's Hollywood Studios in 2008, and the following years saw a shift from feeling as if you were actually at a movie or television studio to feeling as if you were in the movies or stories themselves. For example, the two most heavily promoted sections of the park, Toy Story Land and Star Wars: Galaxy's Edge, are meant to be immersive experiences – instead of making the movie, you're a part of it.
Attractions in Disney Hollywood Studios
There are a number of rides and shows at Hollywood Studios. We're going to take a look at all of them, and we've divided them by area of the theme park.
Animation Courtyard
The majority of the attractions in the Animation Courtyard are based on Disney animated movies, shows and characters. A square archway marks the entrance to the area.
Walt Disney Presents
Appropriate for: All Ages
Height Requirement: None
Warning: None
In this interesting walkthrough gallery, you can learn more about Walt Disney himself – his life, work and legacy. You'll get to see all sorts of artifacts, including sketches, artwork, photos, costumes, models and more. This exhibit was originally created to celebrate the 100th anniversary of Walt Disney's birthday and was first called Walt Disney: One Man's Dream.
If you enjoy history or pop culture, or if you are a big Disney fan in general, this is definitely worth a walk through. It's also a great way to get out of the heat (or rain, or, occasionally, cold).
At the end of your self-guided tour through the gallery, there's also a 15 minute documentary highlighting Walt Disney's life. The movie includes rare home movies and audio recordings as well as historical footage.
Commissary Lane
This fairly small section of the park, in between the back of Hollywood Boulevard, Echo Lake and Grand Avenue, mostly serves as a walkway between different attractions. There are, however, 2 restaurants located here (ABC Commissary and Sci-Fi Dine-in Theater Restaurant).
Echo Lake
This area draws its inspiration from the neighborhood with the same name in Los Angeles. The area of Echo Park known as Edendale was the center of filmmaking on the West Coast during the silent movie era, before Hollywood became the movie capital it is today. The architecture is meant to resemble the "California Crazy" architecture popular in Southern California during that time.
For the First Time in Forever: A Frozen Sing-Along Celebration
Appropriate for: All Ages
Height Requirement: None
Show Length: 30 Minutes
Also Found In: Shanghai Disneyland (currently featuring songs from Frozen 2)
This musical show combines scenes from the movie playing on a large screen, the "Royal Historians of Arendelle" recapping the 2013 Disney movie, and appearances from Elsa, Anna and Kristoff to sing along with the audience. While most Frozen fans won't need it, lyrics are projected to assist with the sing-along.
The musical event is held inside a large, comfortable theater, which makes it a great place to get out of the rain or the heat (or the cold, if it DOES bother you anyway). And, certainly, if you're traveling with a Frozen superfan, you'll want to catch a performance.
However, the over-the-top enthusiasm of the performers may be a little much to take for some adults (even if they enjoyed the actual movie itself).
Indiana Jones Epic Stunt Spectacular!
Appropriate for: All Ages
Height Requirement: None
Warning: Violence
In this popular stunt show, you'll see Indiana Jones and Marion performing stunts from Raiders of the Lost Ark. This includes Indy running from the iconic giant boulder and fighting in the marketplace in Cairo. The idea is that you're watching scenes from the movie being filmed right in front of you.
The Stunt Spectacular is an exciting show and can sometimes fill to capacity. Consider bringing a drink and maybe a snack and then getting there early (or even using it as a Genie Plus selection, if you have Genie Plus for the day). The theater is covered, with many fans above the seats, so it does allow you to cool off a bit from the sun.
Since there are fight scenes, the show does include violence. It is always depicted as a fictional portrayal, i.e., the show makes sure it's clear that they are stunts being performed and no one is actually getting hurt.
Star Tours – The Adventures Continue
Appropriate for: Kids, Tweens, Teens, Adults
Height Requirement: 40 in (102 cm) or taller
Warning: Small Drops
Also Found In: Disneyland, Tokyo Disneyland, Disneyland Paris
This 3-D motion simulator ride is a sequel to another attraction, Star Tours. The original ride first opened in Disneyland in 1987. It was the first ride based originally on a licensed intellectual property that wasn't Disney. (Disney would not acquire LucasFilm, the production company behind the Star Wars franchise, until 2012.)
The first ride mainly took place after the original trilogy (Episode IV – A New Hope through Episode VI – Return of the Jedi). In Star Tours – The Adventures Continue, you might experience characters and locations from the original movies, prequels or sequels (Episode I – The Phantom Menace through Episode IX – The Rise of Skywalker).
In fact, the ride sequence is randomized, which results in literally hundreds of possible ride experiences. There are 4 possible opening segments, 5 possible primary destination segments, 7 possible hologram segments, and 5 ending destination segments.
No matter what sequence you get, the ride involves getting a Rebel spy to safety, away from Imperial or First Order forces. And that Rebel spy is picked from the guests on the ride! The photo of the spy is displayed to all riders – which could either make your day or horrify you, depending on how much you enjoy attention.
The ride experience uses a flight simulator, digital 3D video, Audio-Animatronics characters and special effects. If you tend to suffer from motion sickness – especially on simulators – or have trouble with 3D movies, this ride may give you trouble. If you're already on the ride and start to feel sick, taking off the 3D glasses or closing your eyes may help.
Vacation Fun – An Original Animated Short with Mickey & Minnie
Appropriate for: All Ages
Height Requirement: None
Vacation Fun is an 11 minute long animated short starring Mickey and Minnie Mouse. It actually combines original animation with clips from other shorts, such as Potatoland, Croissant de Triomphe, Entombed, Panda-monium, Couples Sweaters, Outback at Ya!, Yodelburg, Dumb Luck and Al Rojo Vivo.
The cartoon is shown in an indoor theater with comfortable chairs and air conditioning – this alone can make it worth adding to your plans on a hot day. But aside from that, it's actually quite enjoyable, with humorous moments for all ages.
When you exit the theater, there are some photo opportunities with some life-sized backgrounds from the Mickey Mouse shorts Panda-monium, Yodelburg, and Potatoland.
Grand Avenue
Like Echo Lake, the Grand Avenue section is named for and inspired by a real location in Los Angeles. The theming is that of a gentrified historic district.
Muppet*Vision 3D
Appropriate for: All Ages
Height Requirement: None
Fans of the original television series The Muppet Show (which aired from 1976 to 1981) will enjoy this 15 minute long 3D show, which stars many favorite Muppets (such as Kermit the Frog, Miss Piggy, Fozzie, and Gonzo, to name a few). You can even enjoy commentary from (animatronic versions of) Statler and Waldorf from a balcony on the right side of the theater. And the show really does retain much of the humor and flavor of the classic Muppets – it was actually directed by legendary puppeteer & Muppets creator Jim Henson.
The plot involves the world's first computer generated muppet, Waldo, who is created in a lab by Bunsen and Beaker. When they try to deactivate him, Waldo is able to escape, and of course trouble ensues. (The Waldo character – full name Waldo C. Graphic – first appeared on The Jim Henson Hour television series in 1989.)
Children who may not have never seen a Muppets-themed movie or episode still have a lot to enjoy, from the lighthearted humor, 3D gags, and interactive elements. For example, at one point, bubbles fall from the ceiling to match the bubbles being blown on screen. At another point, a "live" Sweetums interacts with characters in the movie.
Muppet Vision 3D tends to run continuously throughout the day. The queuing area is a large room with a humorous pre-show involving various Muppets on TV monitors. There are also a lot of puns and sight gags throughout the room, which is decorated like a prop warehouse. And because it's indoors, it's a welcome way to get out of the sun on hot days.
Hollywood Boulevard
The first section you'll experience once entering the park is Hollywood Boulevard. In that way, it's similar to the Main Street USA area at Magic Kingdom. Hollywood Boulevard is inspired by the real life street in Los Angeles of the same name. Here, you can find stores as well as park services.
At the far end, you'll reach the Mickey and Minnie's Runaway Railway ride, which is located inside a replica of Grauman's Chinese Theatre (the real version also being located in Hollywood).
Mickey & Minnie's Runaway Railway
Appropriate for: Preschoolers, Kids, Tweens, Teens, Adults
Height Requirement: None
Warning: Can Be Jerky At Times
Also Found In: Disneyland (will open in Mickey's Toontown in 2023)
In this family friendly attraction, Mickey and Minnie Mouse are headed by car to a picnic, with Goofy on a train, following along. Because this might get a little boring, things go terribly wrong.
Okay, to be fair, terribly is a huge exaggeration. Because this is a Disney ride, and one with Mickey and Minnie, at that. (Fun fact: this trackless dark ride is actually the first ride-through attraction at any Disney theme park that actually stars Mickey Mouse.)
Anyway, things get a little out of hand, but not really. (At one point, they also get more than a little jerky – keep this in mind if you have a weak stomach.) Overall though, it's a fairly upbeat ride, as you journey through lots of different, colorful settings.
You can see a full review of the ride here.
Star Wars: Galaxy's Edge
This Star Wars land is set in the village of Black Spire Outpost, located on the planet Batuu. Batuu is a relatively "new" planet in that it was created for Galaxy's Edge, though it was designed to have existed within the Star Wars canon for thousands of years. The planet is part of the Outer Rim of the Unknown Regions. Within the timeline of the movie franchise, the events that are happening in Galaxy's Edge are set between Episode VIII – The Last Jedi and Episode IX – The Rise of Skywalker.
Millennium Falcon: Smugglers Run
Appropriate for: Kids, Tweens, Teens, Adults
Height Requirement: 38 in (97 cm) or taller
Warning: Thrill Ride, Small Drops, Dark, Loud
Also Found In: Disneyland
On this exciting smuggling mission, guests get a chance to fly the Millennium Falcon. For Star Wars fans, this is a pretty big deal!
Guests are assigned one of three roles: pilot, engineer and gunner. There are 6 riders at a time – 2 pilots, 2 engineers and 2 gunners.
Pilot is the premiere role that has the most influence over your ride experience, as pilots are the ones who are actually steering the ship. The left pilot controls horizontal motion, with the right pilot in charge of vertical motion. Gunners must defend the ship and cargo, while engineers manage the ship's systems.
Please note that because the pilot position is so key, you may experience differing levels of motion sickness each time you ride depending on who the pilot is. Keep this in mind if you suffer from motion sickness.
Star Wars: Rise of the Resistance
Appropriate for: Kids, Tweens, Teens, Adults
Height Requirement: 40 in (102 cm) or taller
Warning: Thrill Ride, Small Drops, Dark, Loud
Also Found In: Disneyland
Rise of the Resistance opened at Hollywood Studios in December 2019. During this technologically advanced, 18 minute long attraction, multiple ride systems are used. These systems include trackless dark ride vehicles, motion simulators, and a drop shaft similar to that of the Tower of Terror ride.
During the ride, you can expect to see a few favorite (more recent) Star Wars characters, like BB-8, Rey, and Kylo Ren.
Since this ride is so new – and so modern – it tends to be one of, if not the most, popular attraction in any of the four parks right now. For example, according to the My Disney Experience app, as I am writing this it has the longest wait time of anything at Disney World. And that wait time is 50 minutes longer than the next longest wait time. (Rise of the Resistance also has a tendency to break down sometimes during the day, which can increase wait times.)
Sunset Boulevard
Similar to some of the other sections, Sunset Boulevard was inspired by the real life boulevard in Los Angeles. It was actually the first expansion of Hollywood Studios and opened in July 1994. The most noticeable structure in the Sunset Boulevard area is the 199 foot tall Twilight Zone Tower of Terror.
There are also three amphitheaters/theaters in the section: the covered outdoor Theater of the Stars (where Beauty and The Beast Live on Stage has run), the open-air outdoor Hollywood Hills Amphitheater (which housed Fantasmic!), and the indoor Sunset Showcase (where you can see Lightning McQueen's Racing Academy).
Beauty & The Beast Live on Stage
Appropriate for: All Ages
Height Requirement: None
Show Length: 30 Minutes
This live stage show, based on the 1991 animated film, actually first opened in its original form in Hollywood Studios on the same day the film was released (November 22). This version did not closely follow the sequence of events from the movie; for example, the opening number was "Be Our Guest."
In March 2001, a new version debuted, with the songs arranged similarly to how they occur in the film. After closing during the pandemic, the show reopened on August 15, 2021, with some modifications (in staging and choreography) for social distancing reasons.
This popular attraction is actually the longest-running show at any of the Disney theme parks!
Although it is called "Live on Stage," only two actors actually have live dialogue and singing parts – those playing Belle and Gaston. There's also a pre-recorded soundtrack for the rest of the characters.
While the theater is technically an outdoor theater, it is covered (though it can still get hot – and it can also result in showtimes being cancelled due to inclement weather). Be sure to check the times for the day of your visit – the first show often isn't until 11:00 AM, with the last show frequently at 5:00 PM. In other words, you won't be able to catch a performance during the beginning or end of your park day, so plan accordingly.
Lightning McQueen's Racing Academy
Appropriate for: All Ages
Height Requirement: None
In this fun, 10-minute show, Lightning McQueen shares (and demonstrates) some of the lessons he's learned during his career. Lightning McQueen appears "live" on stage, with a huge, wraparound screen providing some action as well as a racing simulator. (The screen really is quite large – nearly 2 stories stall and over 200 feet from one end to the other.)
This attraction is set after the events of Cars 3, and it's fun to catch the details and references the show has included. In addition to Lightning McQueen, you'll see some of your other favorite characters like Mater, Sally Carrera, and Cruz Ramirez.
However, even if you haven't seen any of the Cars movies, there's still enough entertainment value and humor to make it enjoyable for all ages. And honestly, on hotter days, it's worth it just to sit indoors with air conditioning (even though the bench-style seats don't have backs to them).
Because it's a continuously running show, there's not usually an extremely long wait. At the same time, the queueing area is outdoors (with some shade and some fans to keep you somewhat cool). We suggest buying something to drink as you head to the attraction so you can enjoy it as you wait for the next show.
Rock 'n' Roller Coaster Starring Aerosmith
Appropriate for: Kids, Tweens, Teens, Adults
Height Requirement: 48 in (122 cm) or taller
Warning: Thrill Ride, Big Drops, Loud
Also Found In: Walt Disney Studios Park (but closed in 2019)
This fun roller coaster is themed to Aerosmith from start to end. During the preshow, you'll get an invitation from the band to ride along to a concert across town. The roller coaster itself is themed to a "super stretch" limo, with each vehicle playing different Aerosmith songs. You might hear "Dude (Looks Like a Lady)", "Walk This Way" or even "Love in an Elevator" – the latter being rewritten to "Love in a Roller Coaster" specifically for the attraction.
You'll experience a total of 3 inversions: 2 rollover loops and 1 corkscrew.
The Twilight Zone Tower of Terror
Appropriate for: Kids, Tweens, Teens, Adults
Height Requirement: 40 in (102 cm) or taller
Warning: Thrill Ride, Big Drops, Dark, Scary
Also Found In: Tokyo DisneySea (this version does not include any references to The Twilight Zone), Walt Disney Studios Park
Based on the iconic television series The Twilight Zone, this attraction is set in the spooky Hollywood Tower Hotel. On a television set, Rod Serling (the host, creator & writer of the TV show) will set up the backstory for you. On Halloween night in 1939, some hotel guests were riding the elevator when a violent storm hit the building – and the guests were never seen again. After that, the hotel closed down and has since stood empty.
So, of course, during the ride you'll enter an elevator. In the dark, you'll experience lots of sudden, fast drops while you hear the sounds of cables snapping and metal clanging above you.
If you're afraid of elevators, heights or the dark (and sadly, I am afraid of all three), this may not be the ride for you. If you tend to get claustrophobic, you might want to stay away as well.
If you do choose to ride, you'll find that each time is a slightly different experience including randomized drops and lifts inside the elevator. You'll also definitely have one fake drop (meant to startle you) and one complete drop through the entire tower at 39 miles per hour.
Fans of the popular Twilight Zone series should keep an eye out for the numerous references to episodes that can be found in the building. Reportedly, Disney Imagineers watched every episode of the original series at least twice while the attraction was being created.
The Tower itself is quite noticeable before you enter the park – it's actually the second tallest attraction at Disney World. (The tallest, Expedition Everest, is only taller by half a foot.) The Spanish Colonial Revival features on and around the roof of the tower were chosen so that it would blend in with the skyline of the Moroccan Pavilion in the World Showcase part of Epcot.
Toy Story Land
The idea behind Toy Story Land is that guests have "shrunk" down to the size of the beloved toy characters from the Toy Story movie franchise.
The Toy Story Land found in Disney's Hollywood Studios is both the most recent and the largest (in terms of area) of the Toy Story Lands found in Disney parks. (The other Toy Story Lands are located in Walt Disney Studios Park in Paris, Hong Kong Disneyland and Shanghai Disneyland).
Alien Swirling Saucers
Appropriate for: All ages
Height Requirement: 32 in (81 cm) or taller
Warning: Spinning
This spinning ride is themed to the alien characters in the Toy Story movie franchise. While Disney World describes the ride as a "gentle whirl," in our experience it is somewhat rougher/wilder than, say, the Mad Tea Party spinning teacup ride in Magic Kingdom.
Rider tip – be sure to secure any hat or mouse ears before the ride begins – the ride is strong enough to cause it to fly off.
Also, please note that although the ride is marketed for all ages, and though the section is one of the most kid-friendly in the park, there is a height requirement on the ride.
If you've been to Disney California Adventure, you may notice the similarities between this ride and Mater's Junkyard Jamboree in Cars Land.
Slinky Dog Dash
Appropriate for: Kids, Tweens, Teens, Adults
Height Requirement: 38 in (97 cm) or taller
Warning: Thrill Ride, Small Drops
This popular family roller coaster is themed to the Slinky Dog character from the Toy Story franchise.
More specifically, the backstory of the ride involves Andy using a "Dash & Dodge Mega Coaster Kit" to build a roller coaster, with Slinky Dog as the ride vehicle. (Andy, as you may recall, was the owner of most of the toys in the original Toy Story movie.)
The ride itself continues the overall theme of Toy Story Land being an oversized version of Andy's toys and surroundings
In the queuing area, you'll see giant crafts materials (like Crayola crayons, Elmer's glue and a Ticonderoga Number 2 pencil), gigantic assembly instructions for the Mega Coaster Kit, and other large, assorted pieces from various toys and games.
During the ride, sights include Jessie clinging to a frame made of blocks, Rex on top of a tower of Jenga blocks, and more. Near the end, you can catch Wheezy the Penguin singing "You've Got a Friend in Me."
Since this is the "wildest" of the rides in Toy Story Land (and one of only two roller coasters in Hollywood Studios), it tends to have longer wait times than many of the other Hollywood Studios rides.
Toy Story Mania
Appropriate for: All ages
Height Requirement: None
Warning: Spinning
Also Found In: Disney California Adventure (known as Toy Story Midway Mania!), Tokyo DisneySea
This fun and clever attraction combines 3-D technology with classic carnival midway games. The idea (more or less) is that you're inside one of Andy's toys, a Midway Games play set.
In fact, the queuing area takes you past lots of life-sized toys, like giant cards, blocks, oversized board games on the ceiling, an Etch-A-Sketch and more. There's even an animatronic Mr. Potato Head telling jokes, singing, and interacting with guests in line, via pre-recorded dialogue voiced by Don Rickles (who also voiced the character in the movies).
The ride itself is a dark ride. You'll try to hit targets to earn points – the harder the target is to hit, the more points you'll receive. And there are also some secret targets that provide "Easter eggs" worth even more points.
While you'll be wearing 3-D glasses, this is actually a 4-D experience. For example, in one of the games, you can pop balloons. It actually feels like air is being let out of each balloon whenever one is popped.
Speaking of the games, there are actually 6 different games you'll play during the ride. The first is just for practice, to get used to the shooting device that's part of the ride vehicle, and is not for any points. Those games are:
Pie Toss Practice Booth
Hamm & Eggs – an egg throwing game
Rex & Trixie's Dino Darts – launch darts to pop balloons
Green Army Men Shoot Camp – throw baseballs to break plates
Buzz Lightyear's Flying Tossers – a ring toss game
Woody's Rootin' Tootin' Shootin' Gallery – a suction cup shooting game
In between these games, there is some spinning as your ride vehicle quickly moves to the next game. This combined with the 3-D images can trigger motion sickness in some guests, so be aware of this if either spinning or 3-D glasses have caused you problems in the past.
Additional Entertainment at Hollywood Studios
The shows we've mentioned so far typically have multiple showings during the day. Additionally, there is some special nighttime entertainment that you can enjoy at Hollywood Studios.
Disney Movie Magic
Projections on Grauman's Chinese Theatre highlight some favorite Disney movies, including scenes from Indiana Jones as well as the Pirates of the Caribbean franchise. This is a 10 minute show.
Wonderful World of Animation
This fun projection show includes fireworks as well as moments from many fun movies, like The Incredibles, Sleeping Beauty, and Coco (to name a few).
Restaurants in Disney Hollywood Studios
There are a lot of fun places to eat in Hollywood Studios! The following is an overview of the different dining locations throughout the park. For a more detailed look at the restaurants at Disney Hollywood Studios, check out this guide.
Quick Service
At Walt Disney World, quick service restaurants are usually counter service or a cafeteria-style restaurant. While nothing at Disney World is actually inexpensive, they are generally less expensive than sit-down restaurants (in part because you don't have to leave a tip).
Many of these locations offer mobile ordering, which allows you to place your order through the My Disney Experience app even before you reach the restaurant. You can then tell the app you're there so your order can be prepared.
The following are the quick service dining options at Disney's Hollywood Studios. Keep in mind that not all quick service locations offer full meals – some specialize in snacks and drinks. We've separated them accordingly – but also keep in mind that one person's snack can be another person's meal, and vice versa!
Snacks
Anaheim Produce (Sunset Boulevard)
Grab a snack at this quick service stand – and if you're an adult, you can get a craft beer or frozen alcoholic beverage, too.
Epic Eats (Echo Lake)
This food stand specializes in funnel cakes.
Hollywood Scoops (Sunset Boulevard)
Looking for something sweet? Order a scoop, cone, ice cream Sundae, brownie Sundae, or chocolate peanut butter explosion shake.
Kat Saka's Kettle (Star Wars: Galaxy's Edge)
There are a couple of snack options here. The standout is the sweet and spicy Outpost Mix, a colorful popcorn snack.
KRNR The Rock Station (Sunset Boulevard)
This dining location looks similar to a food truck and serves drinks and snacks.
Market (Pixar Place)
The Market is a convenient place to get a snack or drink.
Milk Stand (Star Wars: Galaxy's Edge)
Drink blue or green milk, just like Luke Skywalker! It's actually a plant-based blend of coconut milk and rice milk. And adults 21 years or older can choose a green milk cooler or blue milk cooler.
The Trolley Car Café (Hollywood Boulevard)
Inside this classic trolley car station, you'll find a Starbucks.
Meals
ABC Commissary (Commissary Lane)
Enjoy the Art Deco setting and ABC television show posters inside this restaurant. The menu has an international slant.
Backlot Express (Echo Lake)
At the Backlot Express, you can choose between some American standards and a few slightly more distinctive options (like red pepper hummus or a Cuban sandwich). One benefit of this dining location is that there is generally plenty of seating.
Catalina Eddie's (Sunset Boulevard)
Pizzas and Caesar salads are available at this food stand.
Docking Bay 7 Food and Cargo (Star Wars: Galaxy's Edge)
Choose from some exotic dishes with clever, themed names (like the Endorian Fried Chicken Tip Yip).
Fairfax Fare (Sunset Boulevard)
If you're looking for hot dogs – or even a plant-based Chicago-style hot dog salad – you can find it at Fairfax Fare.
PizzeRizzo (Grand Avenue)
There is plenty of seating (two floors, plus outside) at this casual, Muppet-themed restaurant. As the name suggests, the menu consists of pizza options, plus a few other Italian dishes.
Ronto Roasters (Star Wars: Galaxy's Edge)
At Ronto Roasters, you can dine on one of many pork-based dishes. (You can choose from plant-based versions, too.) And don't miss the droid grilling a large side of "ronto" (an animal native to the planet Tatooine) by turning a mechanical spit.
Rosie's All-American Café (Sunset Boulevard)
As the name suggests, there is some classic American fare at Rosie's, including hot dogs and cheeseburgers.
Woody's Lunch Box (Toy Story Land)
This walk-up window is themed to Andy's lunch box. You can enjoy breakfast, as well as lunch and dinner, at this quick service dining location. For more information about what it's like to eat at Woody's Lunch Box, you can check out our full dining review here.
Table Service
Table service restaurants typically involve sitting down and giving your order to a server. Just like outside of the Walt Disney World resort, these can range from casual to more of a fine dining experience.
It's recommended that you make reservations for these table service restaurants in advance. (Disney resort hotel guests can start making reservations about a couple of months in advance.) However, it is still possible to find availability a few days before or even day of. We go over all of that in this guide to Disney World advance dining reservations.
These table service dining locations have been separated by type of restaurant.
Casual Dining
Mama Melrose's Ristorante Italiano (Grand Avenue)
Choose from lots of different pasta dishes inside this casual Italian restaurant.
Character Dining
Hollywood & Vine (Echo Lake)
At Hollywood & Vine, you pay one set price for your meal and can enjoy seeing characters at various points as you dine. At breakfast, there is Disney Junior Play n' Dine with appearances by a few Disney Junior characters. During lunch and dinner, you can take part in Minnie's Seasonal Dining (with Minnie Mouse and a few friends in seasonal or holiday themed outfits).
Fine Dining/Signature Dining
The Hollywood Brown Derby (Hollywood Boulevard)
Go back in time to the Golden Age of Hollywood! The Hollywood Brown Derby is an authentic replica of the restaurant with the same name that first opened in the '20s in Hollywood.
Lounges
BaseLine Tap House (Grand Avenue)
The main draw of this California-style pub is the menu full of California brews and wine. While most of what's available is of the alcoholic beverage variety, there is a small selection of "small plates" of food you can order as well.
The Hollywood Brown Derby Lounge (Hollywood Boulevard)
Enjoy an alcoholic beverage, or order from a very limited food menu.  The food choices are mostly appetizers from the main restaurant, the Hollywood Brown Derby, as well as the classic Cobb salad.
Oga's Cantina at the Walt Disney World Resort (Star Wars: Galaxy's Edge)
If you're looking to enjoy an adult beverage in a uniquely themed Star Wars bar, you've come to the right place! There are non-alcoholic options as well (and a couple of snacks, too).
Tune-In Lounge (Echo Lake)
This lounge is adjacent to the 50's Prime Time Café and is, appropriately, themed to the 1950's. You can order a specialty cocktail, wine or beer and enjoy it while watching television from the '50's.
Unique Dining/Themed Dining
50's Prime Time Café (Echo Lake)
Watch clips from mid-1950's primetime television shows as you dine on home cooking (like Mom's Old-fashioned Pot Roast). The vinyl chairs and Formica tables help you feel like you're inside your mother's kitchen in the '50s. And you may even get some of your Mom's nagging from the servers – don't be surprised to hear something like "Take your elbows off the table" or an admonishment to clean your plate.
Sci-Fi Dine-In Theater Restaurant (Commissary Lane)
This popular themed restaurant is set up to look like a '50s drive-in movie. You'll sit inside "cars" instead of regular tables, and there's even a giant screen showing clips from classic science fiction movies. The cuisine is American, with a pretty decent selection.
Hollywood Studios Stores
Want to stop in a Hollywood Studios gift shop? There are a number of options if you'd like to go shopping in the park. We've highlighted the stores at Hollywood Studios, divided by location.
Animation Courtyard
In Character
You'll find costumes and accessories for kids, so that your child can get – you guessed it – in character.
Echo Lake
Frozen Fractal Gifts
This is the perfect gift shop for fans of the Frozen franchise.
Tatooine Traders
Outside of Galaxy's Edge, this is the best place in Hollywood Studios to get Star Wars apparel, action figures, books, and other gifts.
Hollywood Boulevard
Celebrity 5 & 10
There's a big selection in this gift shop, from Disney home decor and kitchen items to MagicBands to memorabilia to trading pins and more.
Keystone Clothiers
This store is a great place to find special Disney merchandise collections, like the collections created for the 50th Anniversary Celebration at Disney World.
Mickey's of Hollywood
Keepsakes you'll find inside this store include toys, Mickey ears, apparel, accessories, housewares, and more.
Main Entrance
Crossroads of the World
This gift stand is located in the center of the action when you walk inside the park. It's a great place to stop and pick up something you might need for your day, like rainwear, sunglasses, disposable cameras, and film. You can also get postcards and other souvenirs.
Movieland Memorabilia
You can find fun Disney gifts here.
Oscar's Super Service
At this location, you can buy Disney accessories and apparel. The main focus of Oscar's, however, is renting strollers, electric vehicles, and wheelchairs.
Sid Cahuenga's One-of-a-Kind
Interested in using Disney PhotoPass? Stop by before you exit the park. You can buy digital or print copies of the photos that have been taken during the day.
Star Wars: Galaxy's Edge
Black Spire Outfitters
Themed as a local tailor's clothing shop, you can find Star Wars apparel (including robes).
Creature Stall
Take home a new friend from somewhere across the galaxy (in the form of a doll or toy, that is).
Dok-Ondar's Den of Antiquities
Dok-Ondar has gathered treasures from many different planets – you can see both Dok-Ondar himself, as well as those unique items, for sale inside his Den of Antiquities. (Those treasures include fun themed souvenirs, like lightsabers.)
Droid Depot at the Walt Disney World Resort
This is not your ordinary gift shop! At the Droid Depot, you can actually build your own droid. The cost is $99.99 per astromech droid unit (plus tax), and advance reservations are highly recommended. (Note that only the one building the droid plus one guest are allowed in the experience area.)
First Order Cargo
Shop for apparel, housewares, toys, collectibles and other gifts at this post that's been set up by the First Order.
Resistance Supply
Not ready to pledge your allegiance to the First Order? Maybe you should try shopping at this Resistance post instead!
Savi's Workshop – Handbuilt Lightsabers at the Walt Disney World Resort
Here, you can build your own lightsaber and customize it in various ways. Like at the Droid Depot, reservations are strongly recommended, and only the builder and one guest can enter the experience area. The price, however, is different – it costs $219.99 per lightsaber (plus tax).
Toydarian Toymaker
Buy a toy, doll or collectible at this toyshop. And check out the frosted window to catch a glimpse of the toymaker herself, Zabaka the Toydarian.
Sunset Boulevard
Beverly Sunset Boutique
This shop features Pixar themed merchandise as well as some delicious, pre-packaged treats.
Legends of Hollywood
Inside this boutique-style shop, you can choose from Pandora jewelry, Disney fashion, and other trendy options.
Once Upon a Time
While the exterior may look like an Art Deco-style cinema, inside you'll find headwear, jewelry and apparel, all with a Disney theme.
Rock Around the Shop
When you ride Rock 'n' Roller Coaster Starring Aerosmith, you'll exit through this gift shop, full of items related to music, the ride, and of course Aerosmith.
Sunset Ranch Pins and Souvenirs
This stand, with its fun gifts and pins for sale, fits right in structurally with the other food stands along Sunset Boulevard.
Tower Hotel Gifts
This gift shop is located at the Hollywood Tower Hotel (aka The Twilight Zone Tower of Terror ride).
Tower Photo
You can buy pins at this location.
Hotels Near Hollywood Studios Disney World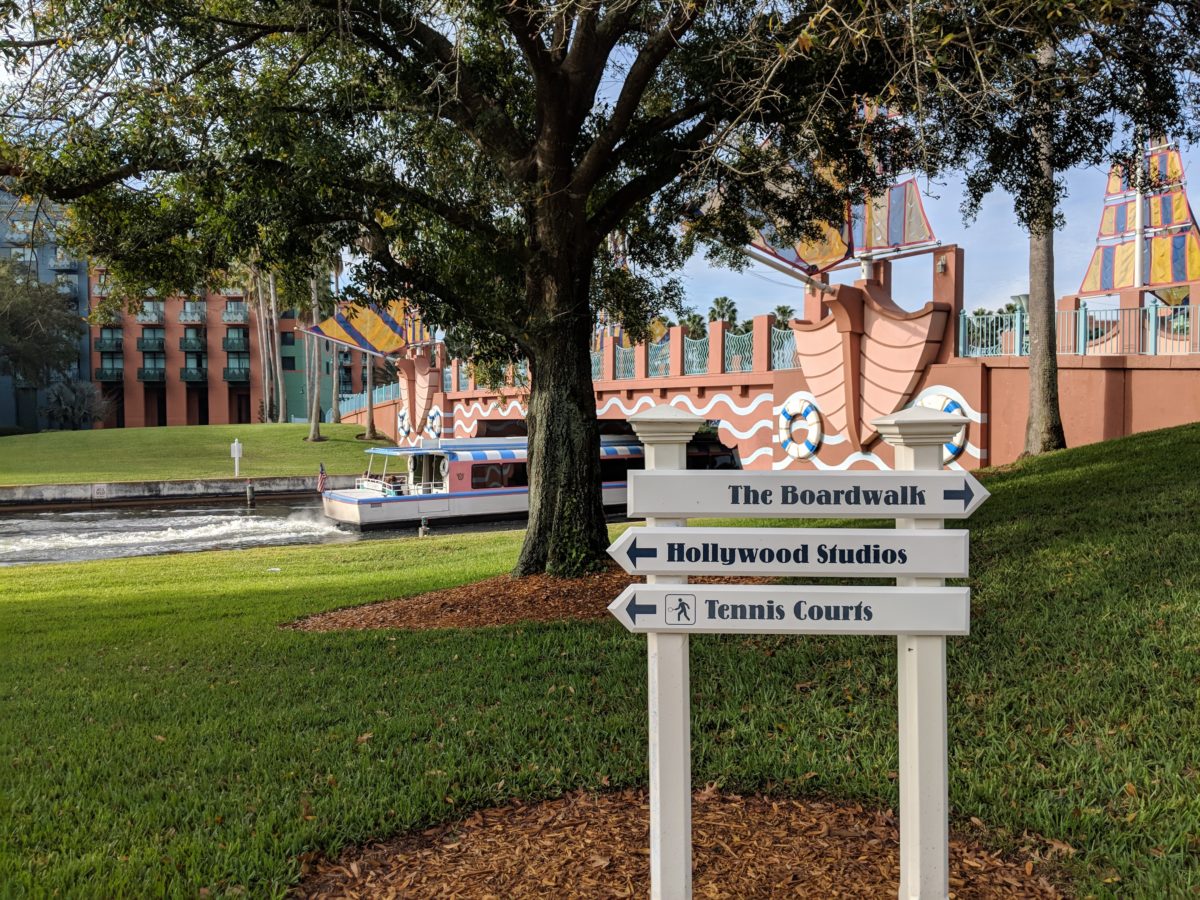 If you plan on spending a lot of time at Hollywood Studios, then a hotel close to Hollywood Studios is a great choice. Luckily, there are a number of great resort hotels conveniently located near Hollywood Studios.
If you choose an official Walt Disney World hotel, you'll get free bus transportation to and from Hollywood Studios. However, there are also several hotels that give you additional transportation options. We're going to take a look at the hotels closest to the theme park, starting with the one that is the best option in terms of distance.
Disney's Boardwalk Resort
This is the hotel that will get you closest to Disney's Hollywood Studios. In fact, there is a walking path in the back of the resort that leads to the theme park. Staying in the Disney's BoardWalk Villas section will get you closest – more specifically, staying near the quiet pool, with as high of a room number as possible. You'll need to take the stairs (or have a room on the first floor) to be as close to the park as possible – otherwise, you'll have to walk to the elevator, which will take you in the opposite direction of Hollywood Studios.
If you want to stay at Disney's Boardwalk Villas, we recommend using David's Vacation Rentals as we've had great success saving lots of money with them. We go over how to do that here.
Note that if you want to stay at the Boardwalk – either in the Villas section or the "regular" part of the hotel (aka the Boardwalk Inn) – you don't have to walk to Hollywood Studios. You can also take a boat. You'll be able to take a boat to Epcot as well, and this water taxi service is free.
Walt Disney World Swan and Dolphin Resorts & Swan Reserve
If you're planning on taking a boat to Hollywood Studios, then staying at the Walt Disney World Swan or Walt Disney World Dolphin will get you there the fastest. There is boat transportation to and from Hollywood Studios, with no stops in between. (While you can also take a boat from Boardwalk, Beach Club, and Yacht Club, you'll make at least one stop before reaching Hollywood Studios.)
Just as with the Boardwalk Resort, if you don't want to take a boat, you can choose to walk to Hollywood Studios. You'll take the same path as you would from the Boardwalk – you'll just need to walk over to the Boardwalk first. (It's not a very long walk, especially if you are at the Swan.)
The Swan and Dolphin are not officially Disney resorts, but they do give you many of the perks that staying at a Disney resort will (such as getting early entry to the parks – more about that later).
Staying at the Swan Reserve will also allow you to enjoy boat transportation and walking to the parks, albeit from slightly farther away. You'll also get the early entry perk there as well.
Disney's Beach Club & Yacht Club Resorts
If you want the option to walk or take a boat to Hollywood Studios, the only other two options are Disney's Beach Club and Disney's Yacht Club. You'll also be able to walk or take a boat to Epcot theme park as well.
Disney's Caribbean Beach Resort
Disney's Skyliner (which is free to ride) has a direct route straight from the Caribbean Beach Resort to Hollywood Studios. If you want to take the gondolas to Hollywood Studios, then the Caribbean is the best option for you.  Keep in mind that if you stay in the Martinque Village part of the Caribbean Beach Resort, you'll actually be closer to the Skyliner station at Disney's Riviera Resort. This will also get you to Hollywood Studios, but you'll have to stop at the Caribbean Skyliner station first.
Disney's Riviera Resort
Take the Skyliner from Disney's Riviera Resort to Disney's Caribbean Beach Resort. From there, you can take the Skyliner to Hollywood Studios.
Disney's Art of Animation & Pop Century Resorts
Art of Animation and Pop Century both share a Skyliner station, located in between the two resorts. From there, you can take a gondola to the Caribbean Beach Resort, and then take another one to Hollywood Studios. This is similar to staying at the Riviera Resort, but the trip is slightly longer.
On the other hand, although the trip is a little longer, Art of Animation and Pop Century are both Disney value resorts. This means that they tend to be among the least expensive of the Disney hotels. There's a good chance it will be a lot cheaper than the Riviera, especially if you use Undercover Tourist to get a great rate. When we aren't renting a DVC (like we mentioned with Disney's Boardwalk), we love getting a cheaper nightly rate through Undercover Tourist.
Other Hotels with Early Entry
We've already mentioned the hotels that give you boat or Skyliner transportation, and/or are within walking distance to Hollywood Studios.
If you won't be staying at one of those hotels, we recommend that you choose from the following.
All of the ones we've already mentioned, along with the ones on the following list, will get you Early Entry into all of the theme parks, including Hollywood Studios. What this means is that you can get into any of the 4 main theme parks (Hollywood Studios, Epcot, Animal Kingdom & Magic Kingdom) 30 minutes early. You'll still need to have a park reservation for the day in order to do this.
Entering the park – and being able to ride a select number of rides – half an hour early can really be a huge advantage. This gives you the chance to ride one of the more popular attractions, like Star Wars: Rise of the Resistance or Slinky Dog Dash, before the park officially opens.
You can get this perk at the following Disney World resorts, which also includes free bus transportation to the parks:
You can also enjoy early entry if you stay at one of the following hotels:
Park Reservations
In order to enter Hollywood Studios, you'll need more than just a park visit. Before the day you want to visit, you'll need to get a park reservation.  You can make you park reservation here at Disney World's website. (We do not recommend, however, that you buy your tickets that way, as you will most likely end up paying too much – more about that later.)
Basically, your park reservation ensures that you are able to enter Hollywood Studios on the date of the reservation. It is possible that a certain day or specific park fills up and no reservations are available, so you'll want to make your reservation sooner rather than later. And you can change it, even on the day of your visit, if you change your mind on what park you want to visit – as long as there is still availability.
The only way to visit Hollywood Studios without a park reservation is if you have a park hopper pass. However, you'll need to make a reservation to another park (Magic Kingdom, Animal Kingdom or Epcot) for the same day and visit that park first. Then, you'll be able to enter Hollywood Studios after 2:00 pm.
Hollywood Studios Tickets
If you're looking to buy tickets to Hollywood Studios, we do not recommend going through the Disney World website, as we mentioned earlier. There are other options that can help you save money on your theme park tickets; we go over them here.
More Money Saving Tips
Buying certain items (like sunblock and ponchos) before your trip can help you save a lot of money, as things tend to be overpriced at Walt Disney World. We have a list of 10 things to buy before you get to Disney World that will save you money.
If you're traveling with kids, they might want to buy a lot of souvenirs and toys during your vacation (this definitely wouldn't be unusual behavior for most kids!). You might want to consider buying some before you go and then waiting until your trip to give it to them. For example, you could buy something Baby Yoda themed or maybe a fun Toy Story shirt. That way, when you're walking through Star Wars: Galaxy's Edge or Toy Story Land and they're wanting to buy something, you could give them what you already bought (at a cheaper price, of course) as a present.
As mentioned earlier, we recommend going through David's Vacation Club if you are wanting to stay at a deluxe hotel that has DVC rooms. We've been able to save hundreds of dollars (sometimes per night!) and stay at amazing Disney hotels. You can find more ways to save on a Disney World hotel here.
Special Events at Hollywood Studios
During the Christmas season, Hollywood Studios does have some special events to celebrate the holidays. This year, it started on November 12, 2021. This includes Sunset Seasons Greetings, which is fun seasonal projections on the Hollywood Tower Hotel (i.e. the Tower of Terror ride). You can find out more about what was previously offered here and see a 2019 video, which includes the Sunset Seasons Greetings:
Genie Plus & Lightning Lane (Paying to Skip the Line)
In the fall of 2021, Walt Disney World rolled out a few new features. You don't have to use any of them – you can have a fun time in the parks without them. They are, however, all designed to save you time in the parks.
Disney Genie
Disney Genie (without a plus after the name) is part of the My Disney Experience app. You can share some of your favorite rides or things to do, and it will make suggestions, like when you should ride certain attractions. This is a free service.
Disney Genie Plus
Disney Genie Plus (or Genie+) is not a free service. Instead, you pay at least $15 plus tax, per guest, per day. The pricing is dynamic and changes from day to day – the more crowded it is expected to be, the more expensive the price. You cannot purchase Genie+ in advance. Instead, if you want to use it, you must buy it day of, for just that day.
You can schedule one ride at a time, for a specific time period. During that time period, you can enter the Lightning Lane entrance instead of the normal line. Once you've entered the Lightning Lane queue, you can schedule your next ride for a future time period. (If you visited Disney World when FastPass+ was still available, this is similar.)
The following rides are available for Genie+ at Hollywood Studios:
Millennium Falcon: Smugglers Run
Slinky Dog Dash
Rock 'n' Roller Coaster
Toy Story Mania
Alien Swirling Saucers
Twilight Zone Tower of Terror
Star Tours — The Adventures Continue
Beauty and the Beast Live on Stage
Muppet*Vision 3D
Disney Jr. Play and Dance!
Frozen Sing-Along Celebration
Indiana Jones Epic Stunt Spectacular
Mickey and Minnie's Runaway Railway
Currently, if you do not use Genie+, you can still enjoy these attractions by using the Standby Line (this is the "regular" line).
Click here to find out if Disney Genie+ is worth it.
Also, if you do decide to use Genie Plus, please note that not every ride is available all day long. There are only so many times available for Genie Plus users. The rides that tend to go the fastest are Slinky Dog Dash, and then after that Millennium Falcon: Smugglers Run.
You can make your first selection at 7:00 AM on the day of your visit. If Slinky Dog Dash is a top priority, you should choose that ride right at 7:00 AM to make sure you can get a time before they all run out. Make sure you buy Genie+ before 7:00 AM (you can buy it any time on the date you want to use it, as long as it's after midnight). This way, you won't waste any time at 7:00 AM before making your Slinky Dog Dash selection.
Lightning Lane – Individual Attractions
You may have noticed that a couple of popular rides were left off the Genie+ list.
That is because you can actually pay for the ride individually. Only one attraction per park has this feature. At Hollywood Studios, those rides are:
Star Wars: Rise of the Resistance
You can do up to 2 Individual Lightning Lane selections a day. (This limit comes into play if you happen to park hop – you can purchase one selection in one park and one for another park.)
The price of an Individual Lightning Lane attraction can vary depending on the date and the ride. Currently, the price is between $7 and $15 per ride, per person.
Book Recommendations
If you want to learn more about Disney's Hollywood Studios – as well as the entire Walt Disney Resort – we highly recommend this book. It's a great resource for Disney planning, as well as frequently entertaining.
Virtual Tour
If you'd like to see for yourself what Hollywood Studios is like before you visit, we suggest you take a virtual tour with this video of the park: